Old Testament Reading
Genesis 22:1–18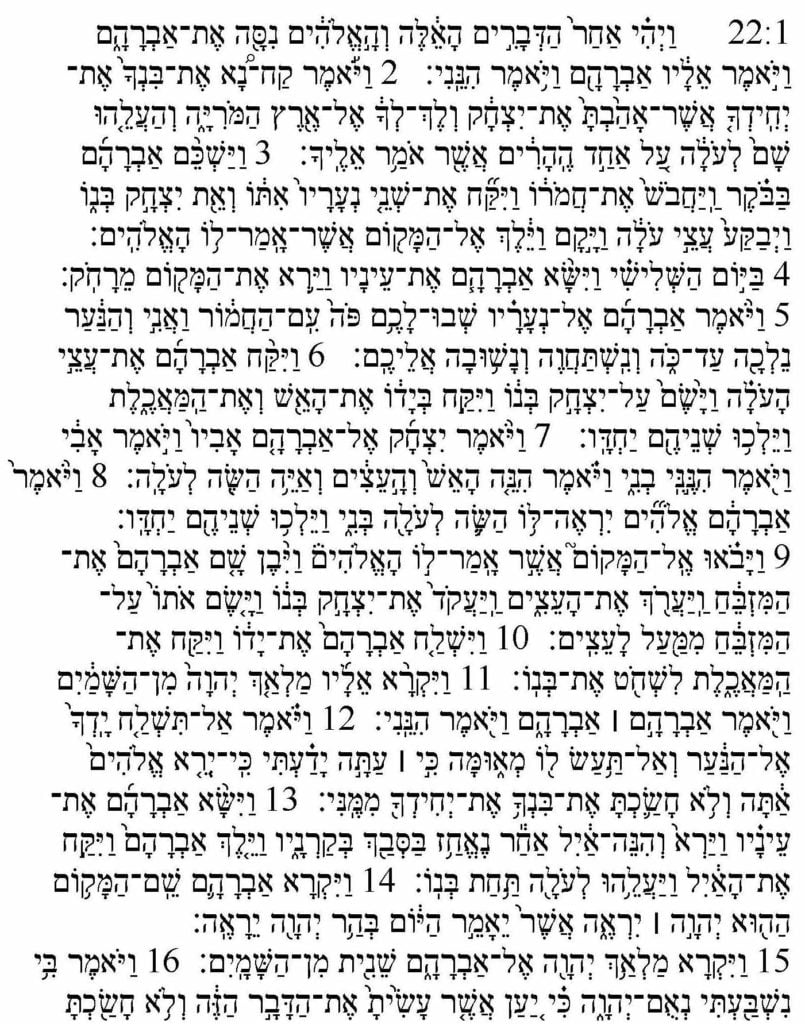 After these things God tested Abraham and said to him, "Abraham!" And he said, "Here I am." He said, "Take your son, your only son Isaac, whom you love, and go to the land of Moriah, and offer him there as a burnt offering on one of the mountains of which I shall tell you." So Abraham rose early in the morning, saddled his donkey, and took two of his young men with him, and his son Isaac. And he cut the wood for the burnt offering and arose and went to the place of which God had told him. On the third day Abraham lifted up his eyes and saw the place from afar. Then Abraham said to his young men, "Stay here with the donkey; I and the boy will go over there and worship and come again to you." And Abraham took the wood of the burnt offering and laid it on Isaac his son. And he took in his hand the fire and the knife. So they went both of them together. And Isaac said to his father Abraham, "My father!" And he said, "Here I am, my son." He said, "Behold, the fire and the wood, but where is the lamb for a burnt offering?" Abraham said, "God will provide for himself the lamb for a burnt offering, my son." So they went both of them together.
When they came to the place of which God had told him, Abraham built the altar there and laid the wood in order and bound Isaac his son and laid him on the altar, on top of the wood. Then Abraham reached out his hand and took the knife to slaughter his son. But the angel of the Lord called to him from heaven and said, "Abraham, Abraham!" And he said, "Here I am." He said, "Do not lay your hand on the boy or do anything to him, for now I know that you fear God, seeing you have not withheld your son, your only son, from me." And Abraham lifted up his eyes and looked, and behold, behind him was a ram, caught in a thicket by his horns. And Abraham went and took the ram and offered it up as a burnt offering instead of his son. So Abraham called the name of that place, "The Lord will provide"; as it is said to this day, "On the mount of the Lord it shall be provided."
And the angel of the Lord called to Abraham a second time from heaven and said, "By myself I have sworn, declares the Lord, because you have done this and have not withheld your son, your only son, I will surely bless you, and I will surely multiply your offspring as the stars of heaven and as the sand that is on the seashore. And your offspring shall possess the gate of his enemies, and in your offspring shall all the nations of the earth be blessed, because you have obeyed my voice."
Epistle
James 1:12–18
1:12 Μακάριος ἀνὴρ ὃς ὑπομένει πειρασμόν, ὅτι δόκιμος γενόμενος λήμψεται τὸν στέφανον τῆς ζωῆς ὃν ἐπηγγείλατο τοῖς ἀγαπῶσιν αὐτόν. 1:13 μηδεὶς πειραζόμενος λεγέτω ὅτι Ἀπὸ θεοῦ πειράζομαι· ὁ γὰρ θεὸς ἀπείραστός ἐστιν κακῶν, πειράζει δὲ αὐτὸς οὐδένα. 1:14 ἕκαστος δὲ πειράζεται ὑπὸ τῆς ἰδίας ἐπιθυμίας ἐξελκόμενος καὶ δελεαζόμενος· 1:15 εἶτα ἡ ἐπιθυμία συλλαβοῦσα τίκτει ἁμαρτίαν, ἡ δὲ ἁμαρτία ἀποτελεσθεῖσα ἀποκύει θάνατον.
1:16 Μὴ πλανᾶσθε, ἀδελφοί μου ἀγαπητοί. 1:17 πᾶσα δόσις ἀγαθὴ καὶ πᾶν δώρημα τέλειον ἄνωθέν ἐστιν καταβαῖνον ἀπὸ τοῦ πατρὸς τῶν φώτων, παρ᾽ ᾧ οὐκ ἔνι παραλλαγὴ ἢ τροπῆς ἀποσκίασμα. 1:18 βουληθεὶς ἀπεκύησεν ἡμᾶς λόγῳ ἀληθείας εἰς τὸ εἶναι ἡμᾶς ἀπαρχήν τινα τῶν αὐτοῦ κτισμάτων.
Blessed is the man who remains steadfast under trial, for when he has stood the test he will receive the crown of life, which God has promised to those who love him. Let no one say when he is tempted, "I am being tempted by God," for God cannot be tempted with evil, and he himself tempts no one. But each person is tempted when he is lured and enticed by his own desire. Then desire when it has conceived gives birth to sin, and sin when it is fully grown brings forth death.
Do not be deceived, my beloved brothers. Every good gift and every perfect gift is from above, coming down from the Father of lights, with whom there is no variation or shadow due to change. Of his own will he brought us forth by the word of truth, that we should be a kind of firstfruits of his creatures.
Holy Gospel
Mark 1:9–15
1:9 Καὶ ἐγένετο ἐν ἐκείναις ταῖς ἡμέραις ἦλθεν Ἰησοῦς ἀπὸ Ναζαρὲτ τῆς Γαλιλαίας καὶ ἐβαπτίσθη εἰς τὸν Ἰορδάνην ὑπὸ Ἰωάννου. 1:10 καὶ εὐθὺς ἀναβαίνων ἐκ τοῦ ὕδατος εἶδεν σχιζομένους τοὺς οὐρανοὺς καὶ τὸ πνεῦμα ὡς περιστερὰν καταβαῖνον εἰς αὐτόν· 1:11 καὶ φωνὴ ἐγένετο ἐκ τῶν οὐρανῶν, Σὺ εἶ ὁ υἱός μου ὁ ἀγαπητός, ἐν σοὶ εὐδόκησα.
1:12 Καὶ εὐθὺς τὸ πνεῦμα αὐτὸν ἐκβάλλει εἰς τὴν ἔρημον. 1:13 καὶ ἦν ἐν τῇ ἐρήμῳ τεσσεράκοντα ἡμέρας πειραζόμενος ὑπὸ τοῦ Σατανᾶ, καὶ ἦν μετὰ τῶν θηρίων, καὶ οἱ ἄγγελοι διηκόνουν αὐτῷ.
1:14 Μετὰ δὲ τὸ παραδοθῆναι τὸν Ἰωάννην ἦλθεν ὁ Ἰησοῦς εἰς τὴν Γαλιλαίαν κηρύσσων τὸ εὐαγγέλιον τοῦ θεοῦ 1:15 καὶ λέγων ὅτι Πεπλήρωται ὁ καιρὸς καὶ ἤγγικεν ἡ βασιλεία τοῦ θεοῦ· μετανοεῖτε καὶ πιστεύετε ἐν τῷ εὐαγγελίῳ.
In those days Jesus came from Nazareth of Galilee and was baptized by John in the Jordan. And when he came up out of the water, immediately he saw the heavens being torn open and the Spirit descending on him like a dove. And a voice came from heaven, "You are my beloved Son; with you I am well pleased."
The Spirit immediately drove him out into the wilderness. And he was in the wilderness forty days, being tempted by Satan. And he was with the wild animals, and the angels were ministering to him.
Now after John was arrested, Jesus came into Galilee, proclaiming the gospel of God, and saying, "The time is fulfilled, and the kingdom of God is at hand; repent and believe in the gospel."
---

Commentary
Mark 1:12–13
The following is from Mark 1:1–8:26, Concordia Commentary series, by James W. Voelz, copyright © 2013 Concordia Publishing House. All rights reserved.
"Jesus is now thrown out into the desert, possessed by the Spirit. Here he is to be seen not as Yahweh personified, not as the royal king personified, but as Israel/the people of God personified. Indeed, throughout Mark's Gospel the lens through which we see Jesus changes, depending upon the context. Jesus, as Israel, now replicates the experience of the people of God in the wilderness. Here his "forty"—forty days—corresponds to their "forty"—forty years. Unlike the children of Israel, however, Jesus "does it right," as it were. He does not succumb to temptation as did they (see Ex 15:24; 16:2; 17:2, and especially Exodus 32). One might say that his overcoming of temptation is part of his active obedience, acting as the people of God should act" (p. 136).
---
English Scripture quotations are from the ESV® Bible (The Holy Bible, English Standard Version®), copyright © 2001 by Crossway, a publishing ministry of Good News Publishers. Used by permission. All rights reserved.
The SymbolGreekU, NewJerusalem, Jacobite, and TranslitLSU fonts are available from Linguist's Software, Inc., PO Box 580, Edmonds, WA 98020-0580, USA; telephone (425) 775-1130; www.linguistsoftware.com.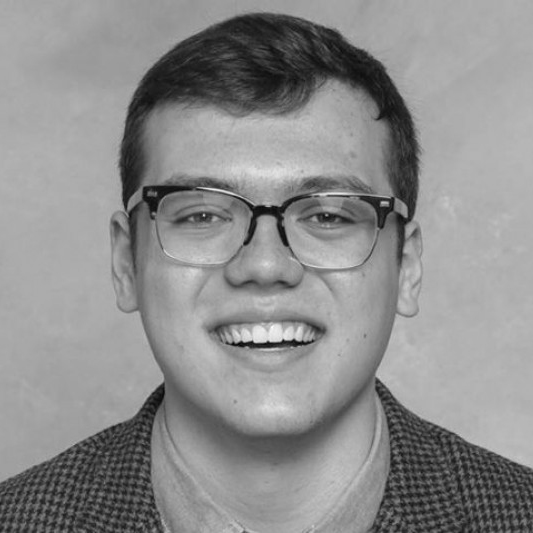 Mason Vieth is a recent graduate of Concordia University Chicago and is currently a first-year student at Concordia Seminary, St. Louis. He interned in the professional and academic editorial department at Concordia Publishing House in the summer of 2017. Some of the projects he worked on include Who Was Martin Luther?, CPH's Academic Blog, as well as other academic and professional resources.