Old Testament Reading
Isaiah 61:10–62:3
I will greatly rejoice in the Lord;
my soul shall exult in my God,
for he has clothed me with the garments of salvation;
he has covered me with the robe of righteousness,
as a bridegroom decks himself like a priest with a beautiful headdress,
and as a bride adorns herself with her jewels.
For as the earth brings forth its sprouts,
and as a garden causes what is sown in it to sprout up,
so the Lord God will cause righteousness and praise
to sprout up before all the nations.
For Zion's sake I will not keep silent,
and for Jerusalem's sake I will not be quiet,
until her righteousness goes forth as brightness,
and her salvation as a burning torch.
The nations shall see your righteousness,
and all the kings your glory,
and you shall be called by a new name
that the mouth of the Lord will give.
You shall be a crown of beauty in the hand of the Lord,
and a royal diadem in the hand of your God.
Epistle Reading
Galatians 4:4–7
4:4 ὅτε δὲ ἦλθεν τὸ πλήρωμα τοῦ χρόνου, ἐξαπέστειλεν ὁ θεὸς τὸν υἱὸν αὐτοῦ, γενόμενον ἐκ γυναικός, γενόμενον ὑπὸ νόμον, 4:5 ἵνα τοὺς ὑπὸ νόμον ἐξαγοράσῃ, ἵνα τὴν υἱοθεσίαν ἀπολάβωμεν. 4:6 Ὅτι δέ ἐστε υἱοί, ἐξαπέστειλεν ὁ θεὸς τὸ πνεῦμα τοῦ υἱοῦ αὐτοῦ εἰς τὰς καρδίας ἡμῶν κρᾶζον, Αββα ὁ πατήρ. 4:7 ὥστε οὐκέτι εἶ δοῦλος ἀλλὰ υἱός· εἰ δὲ υἱός, καὶ κληρονόμος διὰ θεοῦ.
But when the fullness of time had come, God sent forth his Son, born of woman, born under the law, to redeem those who were under the law, so that we might receive adoption as sons. And because you are sons, God has sent the Spirit of his Son into our hearts, crying, "Abba! Father!" So you are no longer a slave, but a son, and if a son, then an heir through God.
Gospel Reading
Luke 2:22–40
2:22 Καὶ ὅτε ἐπλήσθησαν αἱ ἡμέραι τοῦ καθαρισμοῦ αὐτῶν κατὰ τὸν νόμον Μωϋσέως, ἀνήγαγον αὐτὸν εἰς Ἱεροσόλυμα παραστῆσαι τῷ κυρίῳ, 2:23 καθὼς γέγραπται ἐν νόμῳ κυρίου ὅτι Πᾶν ἄρσεν διανοῖγον μήτραν ἅγιον τῷ κυρίῳ κληθήσεται, 2:24 καὶ τοῦ δοῦναι θυσίαν κατὰ τὸ εἰρημένον ἐν τῷ νόμῳ κυρίου, ζεῦγος τρυγόνων ἢ δύο νοσσοὺς περιστερῶν.
2:25 Καὶ ἰδοὺ ἄνθρωπος ἦν ἐν Ἰερουσαλὴμ ᾧ ὄνομα Συμεὼν καὶ ὁ ἄνθρωπος οὗτος δίκαιος καὶ εὐλαβὴς προσδεχόμενος παράκλησιν τοῦ Ἰσραήλ, καὶ πνεῦμα ἦν ἅγιον ἐπ᾽ αὐτόν· 2:26 καὶ ἦν αὐτῷ κεχρηματισμένον ὑπὸ τοῦ πνεύματος τοῦ ἁγίου μὴ ἰδεῖν θάνατον πρὶν [ἢ] ἂν ἴδῃ τὸν Χριστὸν κυρίου. 2:27 καὶ ἦλθεν ἐν τῷ πνεύματι εἰς τὸ ἱερόν· καὶ ἐν τῷ εἰσαγαγεῖν τοὺς γονεῖς τὸ παιδίον Ἰησοῦν τοῦ ποιῆσαι αὐτοὺς κατὰ τὸ εἰθισμένον τοῦ νόμου περὶ αὐτοῦ 2:28 καὶ αὐτὸς ἐδέξατο αὐτὸ εἰς τὰς ἀγκάλας καὶ εὐλόγησεν τὸν θεὸν καὶ εἶπεν,
2:29 Νῦν ἀπολύεις τὸν δοῦλόν σου, δέσποτα,
κατὰ τὸ ῥῆμά σου ἐν εἰρήνῃ·
2:30 ὅτι εἶδον οἱ ὀφθαλμοί μου τὸ σωτήριόν σου,
2:31 ὃ ἡτοίμασας κατὰ πρόσωπον πάντων τῶν λαῶν,
2:32 φῶς εἰς ἀποκάλυψιν ἐθνῶν
καὶ δόξαν λαοῦ σου Ἰσραήλ.
2:33 καὶ ἦν ὁ πατὴρ αὐτοῦ καὶ ἡ μήτηρ θαυμάζοντες ἐπὶ τοῖς λαλουμένοις περὶ αὐτοῦ. 2:34 καὶ εὐλόγησεν αὐτοὺς Συμεὼν καὶ εἶπεν πρὸς Μαριὰμ τὴν μητέρα αὐτοῦ, Ἰδοὺ οὗτος κεῖται εἰς πτῶσιν καὶ ἀνάστασιν πολλῶν ἐν τῷ Ἰσραὴλ καὶ εἰς σημεῖον ἀντιλεγόμενον 2:35 – καὶ σοῦ [δὲ] αὐτῆς τὴν ψυχὴν διελεύσεται ῥομφαία –, ὅπως ἂν ἀποκαλυφθῶσιν ἐκ πολλῶν καρδιῶν διαλογισμοί.
2:36 Καὶ ἦν Ἅννα προφῆτις, θυγάτηρ Φανουήλ, ἐκ φυλῆς Ἀσήρ· αὕτη προβεβηκυῖα ἐν ἡμέραις πολλαῖς, ζήσασα μετὰ ἀνδρὸς ἔτη ἑπτὰ ἀπὸ τῆς παρθενίας αὐτῆς 2:37 καὶ αὐτὴ χήρα ἕως ἐτῶν ὀγδοήκοντα τεσσάρων, ἣ οὐκ ἀφίστατο τοῦ ἱεροῦ νηστείαις καὶ δεήσεσιν λατρεύουσα νύκτα καὶ ἡμέραν. 2:38 καὶ αὐτῇ τῇ ὥρᾳ ἐπιστᾶσα ἀνθωμολογεῖτο τῷ θεῷ καὶ ἐλάλει περὶ αὐτοῦ πᾶσιν τοῖς προσδεχομένοις λύτρωσιν Ἰερουσαλήμ.
2:39 Καὶ ὡς ἐτέλεσαν πάντα τὰ κατὰ τὸν νόμον κυρίου, ἐπέστρεψαν εἰς τὴν Γαλιλαίαν εἰς πόλιν ἑαυτῶν Ναζαρέθ. 2:40 Τὸ δὲ παιδίον ηὔξανεν καὶ ἐκραταιοῦτο πληρούμενον σοφίᾳ, καὶ χάρις θεοῦ ἦν ἐπ᾽ αὐτό.
And when the time came for their purification according to the Law of Moses, they brought him up to Jerusalem to present him to the Lord (as it is written in the Law of the Lord, "Every male who first opens the womb shall be called holy to the Lord") and to offer a sacrifice according to what is said in the Law of the Lord, "a pair of turtledoves, or two young pigeons." Now there was a man in Jerusalem, whose name was Simeon, and this man was righteous and devout, waiting for the consolation of Israel, and the Holy Spirit was upon him. And it had been revealed to him by the Holy Spirit that he would not see death before he had seen the Lord's Christ. And he came in the Spirit into the temple, and when the parents brought in the child Jesus, to do for him according to the custom of the Law, he took him up in his arms and blessed God and said,
"Lord, now you are letting your servant depart in peace,
according to your word;
for my eyes have seen your salvation
that you have prepared in the presence of all peoples,
a light for revelation to the Gentiles,
and for glory to your people Israel."
And his father and his mother marveled at what was said about him. And Simeon blessed them and said to Mary his mother, "Behold, this child is appointed for the fall and rising of many in Israel, and for a sign that is opposed (and a sword will pierce through your own soul also), so that thoughts from many hearts may be revealed."
And there was a prophetess, Anna, the daughter of Phanuel, of the tribe of Asher. She was advanced in years, having lived with her husband seven years from when she was a virgin, and then as a widow until she was eighty-four. She did not depart from the temple, worshiping with fasting and prayer night and day. And coming up at that very hour she began to give thanks to God and to speak of him to all who were waiting for the redemption of Jerusalem.
And when they had performed everything according to the Law of the Lord, they returned into Galilee, to their own town of Nazareth. And the child grew and became strong, filled with wisdom. And the favor of God was upon him.
---
Commentary
Luke 2:30
The following is from Luke 1:1–9:50, Concordia Commentary series, by Arthur A. Just Jr.
"Simeon's eyes are opened to this salvation even though it is cloaked in the forty-day-old Jesus, still wrapped in infant's clothing. Luke weaves throughout the gospel the metaphor of closed and opened eyes for the motif of minds closed or opened to the kerygma of a crucified and resurrected Jesus. This Lukan motif of closed and opened eyes refers not to physical vision but to an eschatological understanding of the work of Jesus. It comes to a climax in 24:16, where God closes the eyes of the Emmaus disciples and then opens them in 24:31 to reveal for the first time to anyone in Luke's gospel the crucified and risen Christ. Throughout Luke's gospel, 'the eyes' used metaphorically describe the understanding or misunderstanding of God's revelation in Jesus. The theme is first used here as Simeon takes the infant Jesus in his arms, blesses God by saying that he may now depart in peace 'because my eyes have seen your salvation.' Luke connects the eyes here to the understanding of Simeon that the infant Jesus embodies God's salvation." (pp. 120–21)
---
English Scripture quotations are from the ESV® Bible (The Holy Bible, English Standard Version®), copyright © 2001 by Crossway, a publishing ministry of Good News Publishers. Used by permission. All rights reserved.
The SymbolGreekU, NewJerusalem, Jacobite, and TranslitLSU fonts are available from Linguist's Software, Inc., PO Box 580, Edmonds, WA 98020-0580, USA; telephone (425) 775-1130; www.linguistsoftware.com.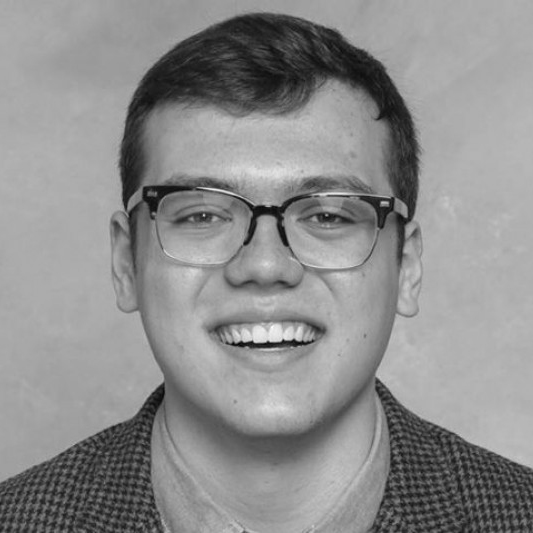 Mason Vieth is a recent graduate of Concordia University Chicago and is currently a first-year student at Concordia Seminary, St. Louis. He interned in the professional and academic editorial department at Concordia Publishing House in the summer of 2017. Some of the projects he worked on include Who Was Martin Luther?, CPH's Academic Blog, as well as other academic and professional resources.