Old Testament Reading
Jeremiah 31:31–34
Behold, the days are coming, declares the Lord, when I will make a new covenant with the house of Israel and the house of Judah, not like the covenant that I made with their fathers on the day when I took them by the hand to bring them out of the land of Egypt, my covenant that they broke, though I was their husband, declares the Lord. For this is the covenant that I will make with the house of Israel after those days, declares the Lord: I will put my law within them, and I will write it on their hearts. And I will be their God, and they shall be my people. And no longer shall each one teach his neighbor and each his brother, saying, "Know the Lord," for they shall all know me, from the least of them to the greatest, declares the Lord. For I will forgive their iniquity, and I will remember their sin no more.
Epistle
Hebrews 5:1–10
5:1 Πᾶς γὰρ ἀρχιερεὺς ἐξ ἀνθρώπων λαμβανόμενος ὑπὲρ ἀνθρώπων καθίσταται τὰ πρὸς τὸν θεόν, ἵνα προσφέρῃ δῶρά τε καὶ θυσίας ὑπὲρ ἁμαρτιῶν, 5:2 μετριοπαθεῖν δυνάμενος τοῖς ἀγνοοῦσιν καὶ πλανωμένοις, ἐπεὶ καὶ αὐτὸς περίκειται ἀσθένειαν 5:3 καὶ δι᾽ αὐτὴν ὀφείλει, καθὼς περὶ τοῦ λαοῦ, οὕτως καὶ περὶ αὐτοῦ προσφέρειν περὶ ἁμαρτιῶν. 5:4 καὶ οὐχ ἑαυτῷ τις λαμβάνει τὴν τιμὴν ἀλλὰ καλούμενος ὑπὸ τοῦ θεοῦ καθώσπερ καὶ Ἀαρών.
5:5 Οὕτως καὶ ὁ Χριστὸς οὐχ ἑαυτὸν ἐδόξασεν γενηθῆναι ἀρχιερέα ἀλλ᾽ ὁ λαλήσας πρὸς αὐτόν,
Υἱός μου εἶ σύ, ἐγὼ σήμερον γεγέννηκά σε·
5:6 καθὼς καὶ ἐν ἑτέρῳ λέγει,
Σὺ ἱερεὺς εἰς τὸν αἰῶνα κατὰ τὴν τάξιν Μελχισέδεκ,
5:7 ὃς ἐν ταῖς ἡμέραις τῆς σαρκὸς αὐτοῦ δεήσεις τε καὶ ἱκετηρίας πρὸς τὸν δυνάμενον σῴζειν αὐτὸν ἐκ θανάτου μετὰ κραυγῆς ἰσχυρᾶς καὶ δακρύων προσενέγκας καὶ εἰσακουσθεὶς ἀπὸ τῆς εὐλαβείας, 5:8 καίπερ ὢν υἱός, ἔμαθεν ἀφ᾽ ὧν ἔπαθεν τὴν ὑπακοήν, 5:9 καὶ τελειωθεὶς ἐγένετο πᾶσιν τοῖς ὑπακούουσιν αὐτῷ αἴτιος σωτηρίας αἰωνίου, 5:10 προσαγορευθεὶς ὑπὸ τοῦ θεοῦ ἀρχιερεὺς κατὰ τὴν τάξιν Μελχισέδεκ.
For every high priest chosen from among men is appointed to act on behalf of men in relation to God, to offer gifts and sacrifices for sins. He can deal gently with the ignorant and wayward, since he himself is beset with weakness. Because of this he is obligated to offer sacrifice for his own sins just as he does for those of the people. And no one takes this honor for himself, but only when called by God, just as Aaron was.
So also Christ did not exalt himself to be made a high priest, but was appointed by him who said to him,
"You are my Son,
today I have begotten you";
as he says also in another place,
"You are a priest forever,
after the order of Melchizedek."
In the days of his flesh, Jesus offered up prayers and supplications, with loud cries and tears, to him who was able to save him from death, and he was heard because of his reverence. Although he was a son, he learned obedience through what he suffered. And being made perfect, he became the source of eternal salvation to all who obey him, being designated by God a high priest after the order of Melchizedek.
Holy Gospel
Mark 10:(32–34) 35–45
10:32 Ἦσαν δὲ ἐν τῇ ὁδῷ ἀναβαίνοντες εἰς Ἱεροσόλυμα, καὶ ἦν προάγων αὐτοὺς ὁ Ἰησοῦς, καὶ ἐθαμβοῦντο, οἱ δὲ ἀκολουθοῦντες ἐφοβοῦντο. καὶ παραλαβὼν πάλιν τοὺς δώδεκα ἤρξατο αὐτοῖς λέγειν τὰ μέλλοντα αὐτῷ συμβαίνειν 10:33 ὅτι Ἰδοὺ ἀναβαίνομεν εἰς Ἱεροσόλυμα, καὶ ὁ υἱὸς τοῦ ἀνθρώπου παραδοθήσεται τοῖς ἀρχιερεῦσιν καὶ τοῖς γραμματεῦσιν, καὶ κατακρινοῦσιν αὐτὸν θανάτῳ καὶ παραδώσουσιν αὐτὸν τοῖς ἔθνεσιν 10:34 καὶ ἐμπαίξουσιν αὐτῷ καὶ ἐμπτύσουσιν αὐτῷ καὶ μαστιγώσουσιν αὐτὸν καὶ ἀποκτενοῦσιν, καὶ μετὰ τρεῖς ἡμέρας ἀναστήσεται.
10:35 Καὶ προσπορεύονται αὐτῷ Ἰάκωβος καὶ Ἰωάννης οἱ υἱοὶ Ζεβεδαίου λέγοντες αὐτῷ, Διδάσκαλε, θέλομεν ἵνα ὃ ἐὰν αἰτήσωμέν σε ποιήσῃς ἡμῖν. 10:36 ὁ δὲ εἶπεν αὐτοῖς, Τί θέλετέ [με] ποιήσω ὑμῖν; 10:37 οἱ δὲ εἶπαν αὐτῷ, Δὸς ἡμῖν ἵνα εἷς σου ἐκ δεξιῶν καὶ εἷς ἐξ ἀριστερῶν καθίσωμεν ἐν τῇ δόξῃ σου. 10:38 ὁ δὲ Ἰησοῦς εἶπεν αὐτοῖς, Οὐκ οἴδατε τί αἰτεῖσθε. δύνασθε πιεῖν τὸ ποτήριον ὃ ἐγὼ πίνω ἢ τὸ βάπτισμα ὃ ἐγὼ βαπτίζομαι βαπτισθῆναι; 10:39 οἱ δὲ εἶπαν αὐτῷ, Δυνάμεθα. ὁ δὲ Ἰησοῦς εἶπεν αὐτοῖς, Τὸ ποτήριον ὃ ἐγὼ πίνω πίεσθε καὶ τὸ βάπτισμα ὃ ἐγὼ βαπτίζομαι βαπτισθήσεσθε, 10:40 τὸ δὲ καθίσαι ἐκ δεξιῶν μου ἢ ἐξ εὐωνύμων οὐκ ἔστιν ἐμὸν δοῦναι, ἀλλ᾽ οἷς ἡτοίμασται.
10:41 Καὶ ἀκούσαντες οἱ δέκα ἤρξαντο ἀγανακτεῖν περὶ Ἰακώβου καὶ Ἰωάννου. 10:42 καὶ προσκαλεσάμενος αὐτοὺς ὁ Ἰησοῦς λέγει αὐτοῖς, Οἴδατε ὅτι οἱ δοκοῦντες ἄρχειν τῶν ἐθνῶν κατακυριεύουσιν αὐτῶν καὶ οἱ μεγάλοι αὐτῶν κατεξουσιάζουσιν αὐτῶν. 10:43 οὐχ οὕτως δέ ἐστιν ἐν ὑμῖν, ἀλλ᾽ ὃς ἂν θέλῃ μέγας γενέσθαι ἐν ὑμῖν ἔσται ὑμῶν διάκονος, 10:44 καὶ ὃς ἂν θέλῃ ἐν ὑμῖν εἶναι πρῶτος ἔσται πάντων δοῦλος· 10:45 καὶ γὰρ ὁ υἱὸς τοῦ ἀνθρώπου οὐκ ἦλθεν διακονηθῆναι ἀλλὰ διακονῆσαι καὶ δοῦναι τὴν ψυχὴν αὐτοῦ λύτρον ἀντὶ πολλῶν.
[And they were on the road, going up to Jerusalem, and Jesus was walking ahead of them. And they were amazed, and those who followed were afraid. And taking the twelve again, he began to tell them what was to happen to him, saying, "See, we are going up to Jerusalem, and the Son of Man will be delivered over to the chief priests and the scribes, and they will condemn him to death and deliver him over to the Gentiles. And they will mock him and spit on him, and flog him and kill him. And after three days he will rise."]
And James and John, the sons of Zebedee, came up to him and said to him, "Teacher, we want you to do for us whatever we ask of you." And he said to them, "What do you want me to do for you?" And they said to him, "Grant us to sit, one at your right hand and one at your left, in your glory." Jesus said to them, "You do not know what you are asking. Are you able to drink the cup that I drink, or to be baptized with the baptism with which I am baptized?" And they said to him, "We are able." And Jesus said to them, "The cup that I drink you will drink, and with the baptism with which I am baptized, you will be baptized, but to sit at my right hand or at my left is not mine to grant, but it is for those for whom it has been prepared." And when the ten heard it, they began to be indignant at James and John. And Jesus called them to him and said to them, "You know that those who are considered rulers of the Gentiles lord it over them, and their great ones exercise authority over them. But it shall not be so among you. But whoever would be great among you must be your servant, and whoever would be first among you must be slave of all. For even the Son of Man came not to be served but to serve, and to give his life as a ransom for many."
---
Commentary
Jeremiah 31:34
The following is from Commentary on Jeremiah and Lamentations, Concordia Classic Commentary series, by Norman C. Habel, copyright © 1968 Concordia Publishing House. All rights reserved.
"The final word in this prophetic dream of hope provides the basis and ground for the entire vision. Thus it is introduced by 'for,' or 'because.' 'For I will forgive their iniquity,' states the Lord. In contrast to this statement stands the forthright proclamation of Jeremiah that the sins of God's people cannot be erased (17:1) and that the people are controlled by the violent forces of evil that they have set in motion. No rite could ward off this evil. Only a miracle could save Israel from final rejection under God's judgment. And that miracle is found in the free forgiveness of Yahweh. He will forgive and forget" (p. 248).
---
English Scripture quotations are from the ESV® Bible (The Holy Bible, English Standard Version®), copyright © 2001 by Crossway, a publishing ministry of Good News Publishers. Used by permission. All rights reserved.
The SymbolGreekU, NewJerusalem, Jacobite, and TranslitLSU fonts are available from Linguist's Software, Inc., PO Box 580, Edmonds, WA 98020-0580, USA; telephone (425) 775-1130; www.linguistsoftware.com.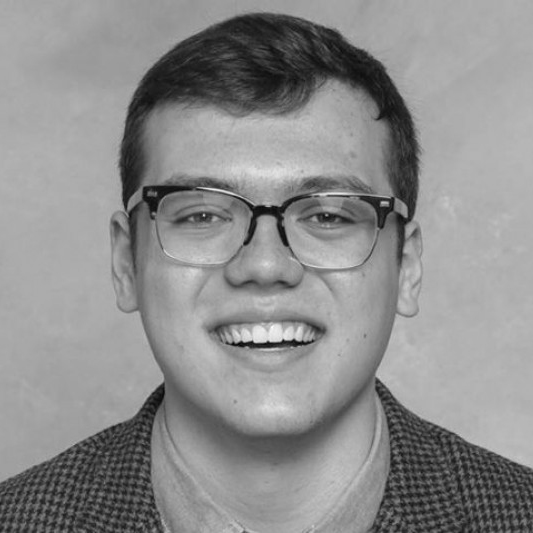 Mason Vieth is a recent graduate of Concordia University Chicago and is currently a first-year student at Concordia Seminary, St. Louis. He interned in the professional and academic editorial department at Concordia Publishing House in the summer of 2017. Some of the projects he worked on include Who Was Martin Luther?, CPH's Academic Blog, as well as other academic and professional resources.