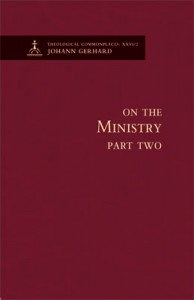 Concordia Publishing House is proud to present Gerhard's On the Ministry II, the latest volume of the Theological Commonplaces in English, coming beside On the Ministry I and On the Church to complete Gerhard's definitive treatment of the doctrines of church and ministry. We asked Rev. Dr. Benjamin Mayes, general editor for the series, how this volume can help pastors today, what advice Gerhard would give current students, and even how this volume would be helpful for laypeople. Read on for his answers to these questions and more.
1. As an ordained pastor yourself, did you find anything in this latest Gerhard volume that will help you in your ministry?
"Modern American society, both outside the Church and inside, view pastors as employees of congregations, program leaders, community organizers, or CEOs. Gerhard sets forth a different view, based on the New Testament. Here pastors are shepherds, overseers, and teachers. They have a real power, given to them by God for building up and not for destroying (2 Cor. 10:8). That's one side of it. The other side is that pastors' duties are clearly delimited, and they are not to have any tyrannical power. Knowing where their office begins and ends is especially important as pastors face challenges, temptations, and fears in the ministry."
2. What advice do you think Gerhard would offer to seminary students today?
"In fact, we know precisely what advice he gave. In his still-untranslated Method of Theological Study he set forth a five-year course of study with two main points of focus: piety and learning. Prayer and the pursuit of piety are important throughout one's theological study. And then the formal study of theology would focus on the Bible and what we would call 'systematic theology.' And as a capstone to this education, he recommended also the study of church history, especially the Early Church Fathers. All in all, Gerhard would repeat St. Paul's direction to Timothy, that pastors must be 'above reproach, the husband of one wife, sober-minded, self-controlled, respectable, hospitable, able to teach' (1 Tim. 3:2). These same insights are present throughout his On the Ministry."
3. Gerhard discusses practical issues, such as salary, celibacy, and marriage. How are Gerhard's writings applicable to the ministry in today's world?
"Especially in a day and age when the very definition of marriage is questioned, Gerhard's teaching will be very practical. The work of Gerhard and his predecessors on marriage and related topics like celibacy is taken for granted by many Christians these days, as if there were nothing we could learn from him. But actually Gerhard examined issues surrounding marriage in such detail that his every reader will learn something about this important topic. "On the salary of ministers, of course, our economic realities in churches independent from the state are quite different. Even so, the questions and answers that Gerhard presents show clearly that the church benefits from a paid, professional clergy, and that Christians have the duty to support their pastors financially (1 Cor. 9:4–14)."
4. How does this volume help laypeople support and encourage their pastors?
"The pastoral ministry is not just something for pastors to know about. Ministers and their hearers belong together like shepherds and sheep, or like fathers and children, in a loving, mutually-supporting relationship. Only if laypeople understand their pastor's work will they be able to defend their pastor when the devil and the world try to undermine his work in the Gospel and his authority in the Word of God."
5. CPH has several volumes of Gerhard available. For those who haven't yet subscribed to the series, what book do you suggest they start with?
"Any. My favorites are On Christ, and On the Church. They all are beneficial. This series is more thorough than any other work of Lutheran theology in English. Many of Gerhard's opponents had incorrect views which are popular today, so in many areas Gerhard is helpful for pastors today as they respond to modern theology. By reading Gerhard, one can learn a lot about God's Word, church history, philosophy, and clear thinking. He's the standard for all later Lutheran doctrine, and thus is a touchstone of Lutheran Orthodoxy. He gives thorough consideration to issues dealing with pastoral practice and ethics; for example, marriage is the largest volume in the series. We know a lot about the time from the Reformation to the Book of Concord (1580), and then from the 19th century to the present, but not so much about the time in between—a time span of 250 years. This translation of Gerhard is as if someone buried a treasure and left us a treasure map. We've known about Gerhard for a long time—that's the treasure map. But only now, in this translation, are we beginning to dig up the treasures themselves."
To order, click here. To read the official press release, click here.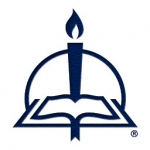 At CPH since 2003, Laura Lane is an editor for the professional book team. She has worked on numerous titles for the adult consumer and church professional markets, including The Lutheran Study Bible (CPH 2009) and The Apocrypha: The Lutheran Edition with Notes (CPH 2012).