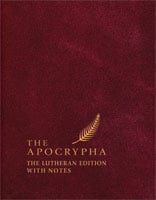 Most Christians know that the Old Testament ends with the book of Malachi and the New Testament begins with Matthew. In most English versions of the Bible, one blank page separates the two books. What many Christians may not know is that one blank page can represent many years—400, to be exact.
That said, these 400 years have not always been represented by a blank page; in fact, they used to be represented by fourteen books known as the Apocrypha. For centuries, every Lutheran's Bible included the Apocrypha as long as Luther's Bible translation was still used. However, when Lutherans moved to English, the Bibles available to them did not include the Apocrypha, so it fell out of the awareness of many Lutherans.
Concordia Publishing House is pleased to announce the revival of these forgotten books with the publication of The Apocrypha: The Lutheran Edition with Notes—the first and only study edition of the Apocrypha published in English with extensive Lutheran notes, and one of the very finest editions of the Apocrypha ever published for use by all Christians.
Rev. Paul T. McCain, Concordia Publishing House's publisher, explained that for "as long as CPH published Luther's Bible in German, our Church was aware of the existence of these books. In fact, even into the 1970s, it was still available—but only to those who could read German."
Indeed, from Luther to our own Dr. C.F.W. Walther, the Apocrypha was historically used and referenced by orthodox Lutheran theologians in their doctrinal works, sermons, and devotional writings. Lutherans simply followed Luther's advice, printed in his Bible translation's table of contents, "These books are not held equal to the Scriptures, but are useful and good to read."
"These books have long been a rich part of our Biblical Lutheran heritage," said McCain. "They have served as the text for beloved hymns, such as Now Thank We All Our God, and they were commonplace reading materials for all Lutherans at the time of the Reformation and for hundreds of years afterwards."
For those reasons and many more, McCain and Rev. Edward Engelbrecht, the book's general editor, consider the Apocrypha to be an important text, not to be forgotten. They explained that it is an important tool for helping Christians understand the New Testament—primarily because it fills in the background for what people were experiencing before Jesus.
"In general, it fills the gap between the testaments," said Engelbrecht. "It benefits anyone who wants to learn how the New Testament and Christianity came about."
To assist readers in their study, Concordia's edition of The Apocrypha includes extensive quotes and explanations from Martin Luther and Johann Gerhard. It is also replete with study notes and commentary from scholars to assist the reader—lay or professional.
"I consider reading the entire Holy Bible and the Apocrypha to be a life goal for every mature Christian," said Engelbrecht. "We're very proud to be able to offer both of these books in English and with distinctively Lutheran notes."
To order your copy of The Apocrypha: The Lutheran Edition with Notes, visit cph.org or call 1-800-325-3040. To request a review copy, please e-mail Rosemary.Parkinson@cph.org. To schedule an interview, please call Emily Barlean at 314-268-1294.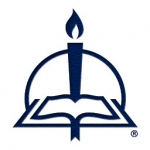 At CPH since 2003, Laura Lane is an editor for the professional book team. She has worked on numerous titles for the adult consumer and church professional markets, including The Lutheran Study Bible (CPH 2009) and The Apocrypha: The Lutheran Edition with Notes (CPH 2012).