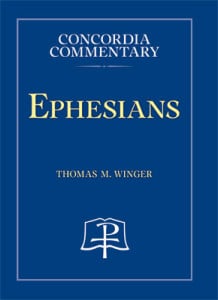 Read what others are saying about the newest Concordia Commentary, Ephesians, by Dr. Thomas Winger:
For too long we have had to wait for this commentary. The letter to the Ephesians had been neglected, not fitting into certain theologians' way of thinking, and was believed not to represent authentic Pauline theology. This has now come to an end. We are gifted with an excellent and reliable explanation of this letter, its formation and contents. There is no question and no problem arising from this letter which Dr. Winger does not take up and discuss. There is no seemingly "dark" sentence or passage left unilluminated. He removes prejudices and opens our eyes to aspects and insights we had never noticed before. We have a sound teaching of apostolic Christology before us and will learn a lot about Baptism, ministry, and the church—right from the apostle's writing. St. Paul is speaking to us again, quite directly.

Years of intensive research and study lie behind this commentary, from which we can now profit. This solid, profound, and fascinating scholarly work is worthy of study, extremely helpful for preaching and teaching, and urgently needed in our day. I wish it would be in the hands of every pastor, teacher, and student, for it is a great gift to the church.

—Dr. Jobst Schöne, Bishop Emeritus of the Selbständige Evangelisch-Lutherische Kirche (Independent Evangelical-Lutheran Church), Germany
Prof. Winger, a learned and sedulous scholar, has worked hard to produce this volume. I appreciate his manner of dealing thoroughly with classic scholarship. This solid volume will take a special place on my bookshelf. I warmly recommend it to everyone who appreciates both biblical and Lutheran theology.

—Dr. Erkki Koskenniemi, Adjunct Professor, Finland (Åbo Akademi University, University of Helsinki, and University of Eastern Finland)
If you want a commentary that takes a traditional approach to Paul's Letter to the Ephesians—no pseudonymous author here—and one that takes seriously both the Greek and the deep theology of this profound letter, then this is your commentary. Tom is fair in his assessment of positions but you always know where he stands. This is a great addition to the series.

—Dr. James W. Voelz, Professor of Exegetical Theology, Concordia Seminary, Saint Louis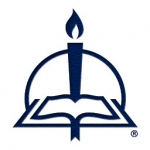 At CPH since 2009, Sarah Steiner was a production editor for the professional and academic book team. She worked on many academic titles, including coordinating the peer review books, and also helped out with Bible resource projects.