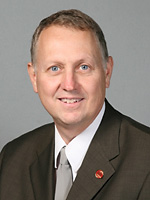 CPH wishes to congratulate Dr. Andrew Steinmann on being named Distinguished Professor of Theology and Hebrew at Concordia University Chicago. Steinmann, a prolific author and speaker, has contributed greatly to the Church through his many books and articles. As a full-time professor of Hebrew, Steinmann keeps busy with his students, writings, and radio guest spots.
Read on to find out about his new title of Distinguished Professor, upcoming book projects, and how he balances everything. Plus, don't miss his advice for aspiring church workers.
How does one become named a Distinguished Professor?
At Concordia University Chicago only 20 percent of active professors (i.e., full professors, not assistant or associate professors) who have served the University ten years or more—primarily as a classroom instructor—can be named Distinguished Professor. That means there are only only six to eight Distinguished Professors at any one time. Faculty members can nominate any eligible colleague. The faculty votes on the nominees, and anyone receiving a two-thirds majority of votes cast, and is subsequently approved by the Board of Regents, is named a Distinguished Professor.

Note: Dr. Steinmann and other faculty members will be honored at the Opening Service of the 2012–13 Academic Year on Sunday, August 26. You can watch the service live here.

What does being named a Distinguished Professor mean for your career?
The award is an acknowledgment by my faculty peers and the University that I have attained a sustained level of achievement in teaching and scholarship with the expectation that I will continue to contribute to the University and to academia in general. It was an unexpected honor, and one that I am grateful to my colleagues for bestowing on me.

You have been a faculty member of Concordia University Chicago for over 10 years. What drew you to CUC, and what keeps you there?
At CUC we serve the Church by preparing professional church workers with programs training Lutheran schoolteachers, deaconesses, directors of Christian Education, church musicians, and also pre-seminary students who desire to become pastors. Additionally, we train students to serve in the world in quite a few professions. The opportunity to train those who will serve both the Church and greater society and to equip them with the knowledge of God's Word as confessed and taught in the Lutheran Confessions is a privilege that was bestowed on me when Concordia called me in 2000. This, coupled with a lively liberal arts environment, many fine colleagues, and the freedom to teach the Gospel without fear of recrimination or retaliation (as at some secular schools) is why I like teaching at CUC. In addition, we have the advantages of living in the Chicago area with its cultural attractions—including music, the arts, several world-class museums, wonderful parks, and easily-accessible public transportation. My wife, Rebecca, and I enjoy this environment, and often take advantage of what the area has to offer.

You have published many books with CPH. What do you hope these books will do for your students and future generations?
I hope that they will open windows into God's Word for those who read and use them. Some of my books were written with students in mind—such as Intermediate Biblical Hebrew or Fundamental Biblical Aramaic—and these came out of my concern to provide students with easy-to-use textbooks that incorporate practical ways to learn the Old Testament languages. Others were written for pastors as well as lay persons advanced in the faith—especially my Concordia Commentaries on Daniel, Proverbs, and Ezra and Nehemiah. Still others I wrote hoping that both pastors and laypeople could benefit from guides to questions about God's Word that are frequently asked. These include Is God Listening?, The Oracles of God, and my latest book, From Abraham to Paul. If these can also contribute to helping Christians in future generations understand God's Word, then perhaps God will use them in that way, if He so chooses.

What upcoming books can we look forward to?
Right now I am finishing work on Prepare the Way of the Lord: An Introduction to the Old Testament (CPH, forthcoming). This book is co-written with my good friend, Dr. Reed Lessing of Concordia Seminary in St. Louis. Ed Engelbrecht (editor at CPH) asked us to write a textbook for seminary students for their introductory classes in Old Testament. We hope this book will help them learn the basic issues in understanding the Old Testament and in dealing with past and current Old Testament scholarship. In addition, the book is designed to highlight issues important to Lutherans, such as how the Old Testament teaches us about Christ and how to rightly understand Law and Gospel from Moses to Malachi. I am also beginning to work on two other volumes in the Concordia Commentary series—on 1 and 2 Samuel. These two books are important in that they lead us to see God's work, especially in choosing David to be Israel's king and the royal ancestor of Jesus, Israel's promised Messiah.

How do you find a balance between teaching and actively publishing?
It is not always easy, but one thing that I find to be essential is to prepare well in advance for my classes. I often prepare the syllabuses, lectures, discussions, and assignments for an entire academic year early in May (the academic year begins at the end of August). This enables me to cope more efficiently with changes that arise and allows me to continue to research and write during the nine months when classes are in session. Summers are also important—they're not just "down time" for me. Although my wife and I often take about two weeks to travel (last year in the Baltic, this year in China), the rest of the summer is spent writing, preparing presentations for churches or pastoral conferences, and similar activities. However, there are times when I don't get much done for class or publishing, since I also have administrative responsibilities: I have been University Marshal (in charge of academic ceremonies, such as opening service each year, and commencement ceremonies) for a number of years, and I was also recently appointed chair of the Department of Theology and Foreign Languages. Sometimes it feels like I'm constantly juggling four or five balls!

You recently published From Abraham to Paul: A Biblical Chronology. Where did your passion for biblical chronology come from?
Initially it started with a scholar's private curiosity about one particular passage in the Book of Kings and what it meant, which led to my first published paper as a young graduate student at the University of Michigan. From that point I was hooked—I wanted to know how the events in the Bible related to one another in time so that I could understand better God working in human history to fulfill His promises in Christ. I hope that the fruits of my labors over the years in this area can now be shared with other Christians who would like to understand the Bible's chronology and also to be able to defend Scripture's trustworthiness to skeptics who frequently challenge its chronological statements.

Why should future church workers study Hebrew and Greek?
Understanding the languages God chose to communicate His Law and Gospel to us is essential for pastors and very helpful for other church workers. While most Christians need only the Scripture in their own language, those who are call by God through His church to teach and preach need to have access to the Word as God first gave it through the apostles and prophets so that they can declare the entire counsel of God, understanding as much of it as possible. Luther held that if we lose the biblical languages, we lose the Scriptures themselves—and there is more than a little truth in that. At Concordia University Chicago all pre-seminary students study Greek and Hebrew, and a good number of deaconess students join them. We occasionally have students who do not intend to pursue church vocations nevertheless choose study Greek or Hebrew; they can also be a blessing to the church, since the lay persons who are well-acquainted with the Scriptures also contribute to the church's mission in wonderful ways.

If you could offer a new student of Hebrew one piece of advice, what would it be?
Practice it as often as possible—every day whenever feasible. We learned our native language by constant exposure and use when we were very young. It is unrealistic to think we can learn other languages without frequent practice. Familiarity and ease with a language comes from repetition and reinforcement. So, I often tell my students that "a day without Hebrew is like a day without sunshine." Considering that over half of God's Word is in Hebrew, they can miss a lot of the light from the Word of God if they don't take advantage of the opportunity to use their Hebrew!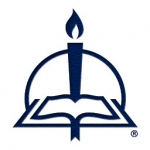 At CPH since 2003, Laura Lane is an editor for the professional book team. She has worked on numerous titles for the adult consumer and church professional markets, including The Lutheran Study Bible (CPH 2009) and The Apocrypha: The Lutheran Edition with Notes (CPH 2012).