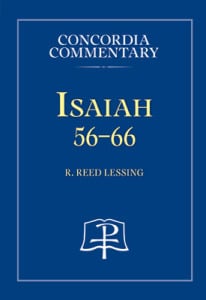 Quoted by our Lord Jesus Christ in his inaugural sermon in his hometown of Nazareth (Lk 4:18–19), Is 61:1–3 is commonly called the Fifth Suffering Servant Song in Isaiah, and for good reason. This programmatic text reverberates throughout the Gospel narratives in Christ's ministry of preaching and healing, and particularly at His Baptism, when the Holy Spirit visibly descended upon Him, and the Father declared Him to be His beloved Son. Sent as the anointed Suffering Servant, He embarked on His mission to proclaim liberty to the captives and give sight to the blind.
The following is Dr. Reed Lessing's commentary on Isaiah 61:1 from the newest volume in the Concordia Commentary series, Isaiah 56–66.
---
The Anointed Servant (61:1)
61:1 The abrupt proclamation "the Spirit of the Lord Yahweh is upon me" establishes a link with 59:21, where Yahweh places his Spirit on this same Servant and puts divine words in his mouth that will endure forever (cf. 40:8). However, in its most immediate context 61:1 appears to announce that the due time of 60:22 ("in its time I will hasten it") is at hand.

Everything promised in chapter 60 has now arrived. Yahweh's new city (60:14), with all of her beauty and brightness, is accessible to "Zion's mourn­ers" (61:3). The plural forms throughout chapter 61 refer to this penitent faithful remnant. They inherit the priceless treasure of God's kingdom (cf. Lk 12:32) and enter the new Jerusalem (Revelation 21–22).

The bounty of Gospel gifts is the result of Yahweh christening the Christ with the Spirit. God's Spirit is involved in creation (Gen 1:2; Job 26:13), blows upon the waters of the Red Sea (Ex 14:21), and guides Israel through the des­ert (Neh 9:20). When the people settle in the promised land, God's Spirit dwells among them (Hag 2:5). He also empowers judges (e.g., Judg 3:10; 6:34; 11:29) and falls upon David (1 Sam 16:13).

The NT announces that when Jesus was baptized he was visibly anointed with the Holy Spirit (Mt 3:16; Mk 1:10; Lk 3:22; cf. Jn 1:32–33; Acts 10:38). Athanasius of Alexandria comments on Is 61:1 and our Lord's Baptism, which affects all of us who have been incorporated into Christ through Holy Baptism:

For when the Lord was washed in the Jordan, we were washed in him and by him. And when he received the Spirit, we were made worthy to receive the Spirit by him. For this reason his anointing was unlike the anointing of Aaron or David or others, for he was anointed in another way, with the oil of gladness [Is 61:3] beyond all his fellows (Ps 45:7 [MT 45:8]; Heb 1:9).[1]

The connotation of the term for the "afflicted" or "poor" ones (עֲנָוִ֗ים), Is 61:1; LXX: πτωχοί, "poor," as in Mt 11:5, citing the phrase with this word from Is 61:1) is not restricted to physical torment, nor to financial or material consid­erations. It is also used to denote those who are distressed or in trouble for any reason, including grief over their own sins and suffering caused by the sins of others. Ps 25:16–21 explains this larger sense of the word. As Jesus says (Mt 9:12–13; Mk 2:17; Lk 5:31–32), he has not come to announce the Gospel to those who are comfortable, in control, and in good health (thinking they have no sin), but to those who (know they) are mired in sin, guilt, shame, and dis­ease. These people receive the free Jubilee gifts of grace.

The word דְּרֹ֔ור, "liberty," in Is 61:1 is associated with the Jubilee Year. On the fiftieth year all Israelites under oppression and in bondage were set free (Lev 25:10; Jer 34:8–9; Ezek 46:17). Confiscated land was returned to the clan who had originally inherited it (Lev 25:28; cf. Joshua 13–21). All Israelite slaves were released, and all Israelite debts were erased; everyone who was bankrupt was forgiven. God's people were given a new beginning.

Often our thoughts tell us that God is against us, that we have exhausted all of his grace, and that our life is a waste. In our darker moments our sin may seem unforgivable and our lives irredeemable, so we lie awake at night, over­whelmed with our failure, feeling like our chance at life is over. Why not settle for mediocrity and just put in our time as we wait to die? But Yahweh's Anointed Servant binds up those with broken hearts; he releases captives and opens the eyes of the blind. Jesus proclaims liberty throughout the land (cf. Lev 25:10). He beckons us to the freedom of a new life of everlasting joy. This Gospel prom­ise is also meant for us!

[1] Athanasius of Alexandria, Orations against the Arians, 1.47 (Wilken, Isaiah, 474–75).
---
From Concordia Commentary: Isaiah 56–66, pages 267–70 © 2014 Concordia Publishing House. All rights reserved.
To order Isaiah 56–66, please contact CPH at 800-325-3040 or visit www.cph.org.
Click here to learn more about the Concordia Commentary Series.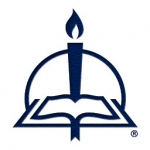 At CPH since 2009, Sarah Steiner was a production editor for the professional and academic book team. She worked on many academic titles, including coordinating the peer review books, and also helped out with Bible resource projects.