Sermon for Holy Saturday
All the angels were standing around the throne and around the elders and the four living creatures. They fell down on their faces before the throne and worshiped God, saying: "Amen! Praise and glory and wisdom and thanks and honor and power and strength be to our God for ever and ever. Amen!" Then one of the elders asked me, "These in white robes—who are they, and where did they come from?" I answered, "Sir, you know." And he said, "These are they who have come out of the great tribulation; they have washed their robes and made them white in the blood of the Lamb. Therefore, they are before the throne of God and serve Him day and night in His temple; and He who sits on the throne will spread His tent over them. Never again will they hunger; never again will they thirst. The sun will not beat upon them, nor any scorching heat. For the Lamb at the center of the throne will be their shepherd; He will lead them to springs of living water. And God will wipe away every tear from their eyes." (Revelation 7:11–17)
We come here today in a kind of "no man's land," between Good Friday and Easter, between death and resurrection. It is a good place to be, for in a real way that is how we live our lives, you and I. We are continually hastening on from death to resurrection. For Christians, life is not a relentless march toward the grave but a constant summoning toward the never-ending life we already have by faith but that we will one day enjoy in all its fullness in body and in soul in Christ our Lord. We journey each day in this world with Him who died once upon the cross yet lives forevermore.
So we press on not toward death but toward life. For those who have been baptized into Christ have already gotten death over with. Baptism was our watery grave where we died with Christ and also rose again with Him in newness of life. And one day we shall see Him, and our eyes will behold Him—our Redeemer who lives eternally. For though worms destroy this body, yet in our flesh shall we see God, whom we shall see for ourselves, and our eyes shall behold Him, and not another (see Job 19:26–27). Yes, one day we shall see God face-to-face, but not yet. That is why this day is so important, this seventh day, this Sabbath day, this day of rest.
Not much happened that first Holy Saturday. Some of the braver followers of Jesus took His battered body down from the cross and laid it in a borrowed tomb that Good Friday before the sun set, when Sabbath day began. Then after the Sabbath was over, at break of day, the women hurried to the tomb with their embalming spices. They found an empty tomb. But all during that day between, that Saturday, the day we observe in this service, the body of Jesus lay still in death.
It is a sobering thought: God lay dead, the victim of His people's sins. Yet in that death, death itself was defeated and the grave was robbed of all its prey. Now Jesus will bring all who have fallen asleep in Him when He comes again in glory to judge the living and the dead. No wonder, then, that when we tuck away in the earth the bodies of those we love who fall asleep in Jesus, we confess that by His rest in the tomb, Jesus Christ has sanctified the graves of all who sleep in Him. For not only are they now at peace with Him in heaven's glory, but one day He will raise them, too, in glorious splendor, just as He Himself is risen from the dead, lives and reigns to all eternity. But not yet.
That is why this Holy Saturday is so important for us all. It reminds us that even now, here between death and life, there remains a Sabbath rest for the people of God. In this Lamb who bled and died to bring us life, there is peace and comfort in a chaotic and fear-filled world. He is the Lamb of God who gives us rest.
Today St. John gives us a window directly into the source of this peace and comfort, the source and foundation of our rest in this restless, fitful world. Thanks to the heavenly vision he sets before us, we are able to look directly at the heart of our rest. It is found in the Lamb who is our Shepherd.
We know Him well, this Shepherd/Lamb. He is the Lamb of God, pure and holy, who on the cross didst suffer. He is the lowly Lamb, the Lamb who bears our sins away, who has mercy on us and bears our shame. And He does all this that He may bring us rest.
And that is exactly what He is doing for the saints in glory, St. John writes. It is an amazing sight. There they stand before the throne and in front of the Lamb, a vast multitude that no one can count, from every nation, tribe, people, and language. They are wearing robes of white and calling out in a loud voice: "Salvation belongs to our God, who sits on the throne, and to the Lamb" (Revelation 7:10).
The Lamb's salvation is the constant refrain of the Church's praise both in earth and heaven. Jesus is the object of our praise precisely because He is the source of our salvation. He brought heaven down to earth when He was made like us in every way yet without sin. He brought earth to heaven when He was made to be sin anyway—taking all our sins upon Himself. The Church's refrain of praise is always the same, then: "Worthy is the Lamb who was slain to receive power and wealth and wisdom and strength and honor and glory and praise" (Revelation 5:12).
The fact that Jesus was slain is not incidental to the rest the Lamb provides. St. John makes it clear that all those gathered around the throne of God are there only and entirely because they are clothed in purity for the marriage feast of the Lamb and His Bride, the Church. They have washed their robes and made them white in the blood of the Lamb.
Christ's blood is a cleansing flood, since it is the blood of God made flesh. It is the only way human sin and shame can be removed. Only the blood of the Lamb can turn the filthy rags of sin into the glorious robes of salvation. For by faith in Christ, all who have been baptized into Him have put on Christ; they are robed in the spotless garments of His own righteousness, faultless to stand before the throne. "The blood of Jesus, [God's] Son, purifies us from all sin" (1 John 1:7b). Therefore the saints of God are before the throne and serve God day and night within His temple. Such is the heavenly praise of all the saints, and such is their eternal rest in the very presence of God, the blessed and Holy Trinity.
And that rest is yours this very day. For you, too, have washed your robes and made them white in the blood of the Lamb. In that cleansing flood that flowed forth from Christ's pierced side, all your sins were washed away. The whole sad record of your sin and guilt was blotted out once and for all in His blood. The debt you owed your God because of all your sins is marked "paid in full," and you have a balance in your account, for you are credited with the very righteousness and holiness of Jesus Christ, the sinless Lamb of God.
Now there remains a Sabbath rest for all Christ's own. Each time you gather here to pray and praise, your worship mingles with the assembled throng in glory. Whenever you eat Christ's body and drink His blood, you show forth His death until He comes. Every time you join to sing His praises, it echoes not only here in this earthly sanctuary but also above in the heavenly courts, where Jesus reigns in exalted glory with the Father and the Spirit, one eternal God. You are not alone in your worship, even when you pray by yourself. For the Church in earth and heaven is all one Church, living and departed. Your earthly praises mingle with the praise of angels and archangels and all the company of heaven.
Sometimes things can be tough sledding down here below. We do not yet appear as we will be. As we live each day here on earth, we face the onslaught of the devil, the world, and our own sinful hearts. We live in enemy-occupied territory. The attacks and assaults of sin and its temptations often hit their mark, and we are ravaged and injured from those wounds. Sometimes we hurt. Sometimes we weep and mourn. But not forever.
One day, together with all the saints in glory, we shall find our rest undisturbed in Him who is our Rest. There all the former things shall pass away. All the sufferings of this present time shall not be worth comparing to the glories that await us there. There we will never hunger or thirst again. There we shall not know the distress of sun or scorching heat. For there the Lamb at the center of the throne will be our Shepherd, and He will lead us to springs of living water. And God will wipe away every tear from our eyes. But not yet.
Meanwhile we find our rest along the way in the Lamb who gives us rest. And so we pray:
Abide with us, Lord, for it is toward evening, and the day is far spent. Abide with us and with Your whole Church. Abide with us in the end of the day, in the end of our life, in the end of the world. Abide with us with Your grace and goodness, with Your holy Word and Sacrament, with Your strength and blessing. Abide with us when the night of affliction and temptation comes upon us, the night of fear and despair when death shall come. Abide with us and with all the faithful through time and eternity.
---
From Lamb of God, Pure and Holy: Lent Preaching and Worship Resource with CD-ROM, pages 79–82 © 2008 Concordia Publishing House. All rights reserved.
To order Lamb of God, Pure and Holy, please contact CPH at 800-325-3040 or visit www.cph.org.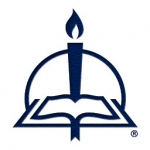 At CPH since 2009, Sarah Steiner was a production editor for the professional and academic book team. She worked on many academic titles, including coordinating the peer review books, and also helped out with Bible resource projects.