In English classrooms, we function via ideas—we read, write, and speak about ideas, with ideas, for ideas, because of ideas. English nerds (myself especially) love ideas. The challenge we face as teachers is to train students and shape them into something cohesive—something focused.
That's the difficulty most of my students encounter. They're expressing a multitude of interesting ideas, but the ideas often fail to connect with one another—speeches offer disjointed insights around the topic; essays start with a thesis but digress into a topical fringe; discussions degenerate from constructive to erratic. How easily focus is lost.
But it's not just high schoolers who struggle with focus. With so many avenues for escape, time killing, and boredom relief, can any of us claim a high level of focus?
I'll admit it: I'm not focused enough. I work out my thumb rather than my brain, scrolling through infinite feeds of information that are almost never essential. I binge watch reality TV shows because the remote is too far away and there's nothing else on and I'm bored and the couch is comfy and, after a torpid afternoon, it's time for bed. Motivation is seldom found sans effort.
As a nascent teacher, I force myself to work hard and focus. When I plan lessons, the first thing I do is create a central focus. This central focus will tell me what my students should learn and, maybe more important, guide me in writing and teaching that lesson. Because, how can I help my students learn to focus if I'm not focused myself?
What if we applied this education strategy to life? What if we kept returning to our central focus?
We actually have a fantastic model to follow. Although I (and I suspect a few of you as well) often roll around in a lethargic muddle, God still has me (and all of you) as His central focus. His focus is so invested in us that He sent His Son to die for our sins. I'm sure you were already aware of this fact, but—ahhh!—is it not a flabbergasting one?
He chose to focus on us and to sacrifice for us. And, as I said, it gives us a fantastic model. We, in turn, can place Christ as the central focus in our lives, following His guidance and receiving His gifts. And His gift of forgiveness? Again, flabbergasting.
It's rewarding to teach my students to focus their ideas, but as a Lutheran teacher, it's even more rewarding to share my central focus on Jesus every day. I'm blessed to have that opportunity—and I hope my fellow Lutheran teachers and I never take it for granted.
So, let's remind ourselves to function via this idea: set our focus on Christ and live our lives in His image. Sounds like a cohesive idea to me.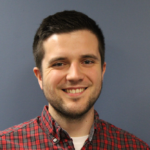 Jonah Schultz is an intern with Concordia Publishing House, studying Secondary Education English Language Arts at Concordia University Chicago. His favorite author is either Kurt Vonnegut or David Foster Wallace, and he maintains a slight obsession with fountain pens.