What is pastoral ministry? What responsibilities and promises are given to Christian pastors and the people they serve?
For the first time ever, English-speaking readers have the opportunity to explore Johann Gerhard's commentary on the first two of St. Paul's "pastoral epistles" to the young pastor Timothy.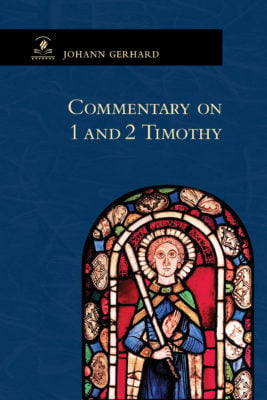 In this new volume, you are invited to study 1 and 2 Timothy along with Gerhard, who was meticulous as he outlined each chapter and made verse-by-verse notes on grammar, syntax, connections, interpretations of the Church Fathers, resolutions of apparent contradictions, and more. As one of the most outstanding Lutheran theologians of the seventeenth century, Gerhard offers a treasure-trove of knowledge and wisdom in his commentary, now widely available to pastors, seminarians, professors, and all students of God's Word today and in generations to come.
Johann Gerhard's Commentary on 1 and 2 Timothy will be available April 4, 2017.

Barbara Shippy was an associate editor at Concordia Publishing House. She attended the University of Missouri—Columbia, where she studied journalism and French. Barbara and her husband enjoy going to baseball games, traveling, and playing on the worship team at church.