God's Word teaches us that our heavenly Father is the Great Physician who heals His people. It assures us that He loves us and will never forsake us. But in the midst of grief—during seasons of life that bring incredible pain, anger, sadness, and confusion—it's easy to doubt the goodness of God and forget His promises.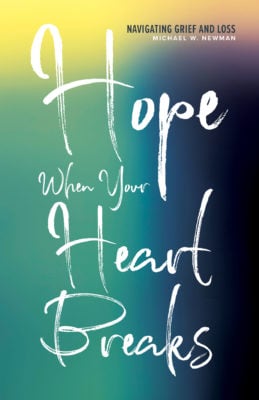 Even in the midst of incredible grief, however, there can be welcome surprises of replenishment and restoration.
Hope When Your Heart Breaks by Michael Newman will guide readers through their seasons of grief and help them discover what they need most—hope.
Featuring brief, topical chapters, this book is designed to be a place of refuge and a point of reference. Not everyone grieves the same way, nor do they always grieve the same things—but everyone needs encouragement. No chapter is dependent on another so that readers might peruse the table of contents to find the chapter that speaks to them in the moment. In addition, each chapter closes with a Bible reading and some questions for personal reflection and journaling.
Hope When Your Heart Breaks: Navigating Grief and Loss will be available August 22, 2017. Don't forget to add it to your Goodreads shelf!

Barbara Shippy was an associate editor at Concordia Publishing House. She attended the University of Missouri—Columbia, where she studied journalism and French. Barbara and her husband enjoy going to baseball games, traveling, and playing on the worship team at church.