In today's world there are so many choices. Sometimes it's hard for parents to know what they are to do when it comes to making decisions for their family and their children. They try their best. But what is really best? The beach? A cabin? Yes, tired parents seek to get away from it all and relax. A change of environment for the weekend sounds good. And that's pretty easy, since most everyone has a vehicle. Or, how about this? The week was long and Saturday was busy, so Sunday morning worship and Sunday School are exchanged for sleeping in or a leisurely breakfast. Then, there is the world of sports. "We can't miss that Sunday morning soccer game." "The coach won't let my children play next week if they miss Sunday morning T-ball practice." Or, it could be, "I can't miss . . . I'm the coach!" There are so many distractions to confuse parents. Ultimately, whatever is of most value or highest priority to the parents will win out.
But what is most valuable to God? We are! In fact, He values us so much that He sent His only Son to save us. Because of His great love for us, our hearts value Him the most. This can be seen in our actions. We want to dwell in His Word, follow Him, and desire to be with Him in worship as often as possible. We are so amazed about our best friend Jesus, and His great love, that we want to share the Good News with everyone. That includes our children. What a joy to watch parents do this!
Because there are parents with all kinds of backgrounds, the church finds opportunities to partner with and help them. Regardless of where parents are in their relationship with Jesus, congregations can help moms and dads find the greatest value and the highest priority in their children's Christian education.
God has blessed the church at large with a weekly children's Christian education program called Sunday School. Children's Christian education is a foundational element of children's ministry. Children cannot respond to God's love if they don't know their Savior. Sunday School gives children the opportunity to grow in and respond to His love with other children. Parents who are shown and treasure the value of weekly Sunday School become true winners! Let's share with parents why other parents want to bring their children to Sunday School each week. Pass it on!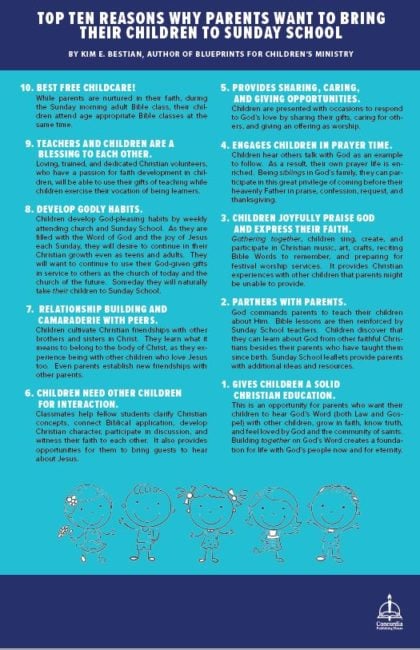 Download a printable version of the Top Ten poster.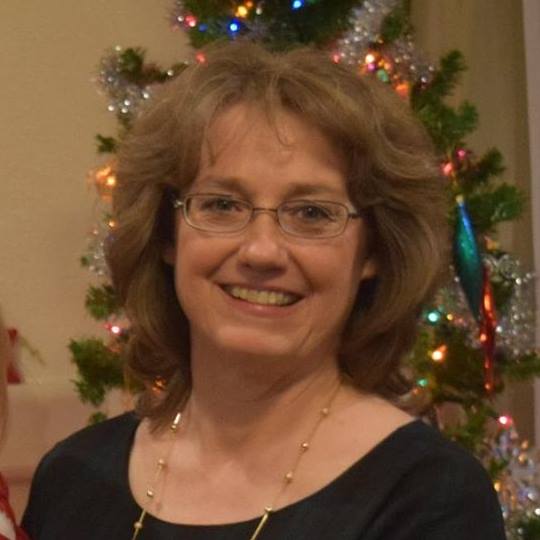 Kim E. Bestian is a trained Lutheran elementary school teacher, director of children's ministry, pastor's wife, mother, and grandmother. She loves to share how God, the Almighty Architect, has helped her build children's ministry over her many years of experience.