Toothbrush protruding from my left cheek, fingers stabbing at Keurig controls amid an agitated caffeine craving, left hand convinced my scalp needed one more run through to achieve optimal follicle distribution: I'm teaching today.
I've studied teaching for the past three years at Concordia University Chicago (Go Cougars!). College courses, classroom observations, and practice teaching prepared me for student teaching in a Lutheran high school. Despite my disarray that first morning, I was ready.
Now, student teaching is difficult, but most of its difficulty has nothing to do with actual teaching. Long before my first day at the school, the Illinois Educator Licensure requirements frustrated me and, like a figurative doughnut, dipped me in a glaze of stress. Here's the short version:
8 formal written lesson plans at least 4 pages each, which are then formally observed
16 weekly reflections emailed each Friday
45 pages of meticulous writing demonstrating my teaching aptitude to Pearson (aka the Educator's Teacher Performance Assessment aka the monkey residing on my back)
And that's the short version. There are also classes to plan and teach every day, student work to grade, school events to attend . . . It's not easy being a student teacher.
But as I keep reminding myself, I was never promised it would be easy. Every professor I've learned from hammered home the point that being a teacher requires constant labor. The late nights and frenzied typing ahead frighten me, and yet something keeps me smiling.
My first day in the classroom—back before I started actually teaching—my cooperating teacher handed me a piece of paper to read. As she taught the first-hour English class, I read this letter she wrote to me. She outlined her general plan for me to take on responsibility and discussed the curriculum I needed to cover, but she ended the letter on something unrelated to school:
"I'm excited to see all the ways you find to share the love of Christ with these students!"
Those words made me forget the enormous to-do list and the stressors that seek to overwhelm. Her words reminded me of the gift God has given me. I get to share the love of Christ every day with students people who desperately need it.
I am one of those desperate people. On a daily basis, I look at my life and see so much in shambles (No, Mom, I'm still not organized. I'm convinced it's hereditary ?). I can't get it together and do this "adulting" thing all that well yet. I keep putting off work and failing my students and myself in ways big and small. And that's without mentioning my rotten, evil, sinful nature, which doesn't make teaching any easier.
As I struggle with my complicated, sin-filled life, I thank God for my Savior, Jesus Christ. I get to teach at a school where the Word is heard each day. We join together as a whole school for chapel three times a week, confessing our sins and receiving the promise of forgiveness. How cool is that?
Sure, the wonderful parts of teaching—especially student teaching—come in a package deal with worries, irritations, and constant self-doubt, but at a Lutheran school there's the added benefit that we Lutheran teachers (and student teachers) get to enjoy our vocation's chief mission: sharing the Gospel.
No matter how much the problems that come with student teaching keep weighing me down, I keep smiling. I get to share the Good News of Jesus' death and resurrection for the forgiveness of sins every day. That's why I'm still smiling. How could I not?
---
P.S. I wanted to share a verse to encourage teachers, students, and student teachers everywhere:
"If any of you lacks wisdom, let him ask God, who gives generously to all without reproach, and it will be given him." James 1:5 (ESV)
I find myself lacking wisdom more often than not, but James reminds us that rather than surrendering when faced with hurdles, we should surrender ourselves to God in prayer.
Pray that He gives you His wisdom in your need. And trust me: I'm right there with you.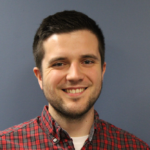 Jonah Schultz is an intern with Concordia Publishing House, studying Secondary Education English Language Arts at Concordia University Chicago. His favorite author is either Kurt Vonnegut or David Foster Wallace, and he maintains a slight obsession with fountain pens.