Arch Books live as potent resources in Lutheran churches, schools, and especially our homes. Since 1965, Arch Books have told beloved Bible stories—made accessible for our littlest ones in gorgeous illustration and delightful poetry. And like wine and cheese or Vera Bradley and flora, Arch Books pair quite nicely with our Lutheran lectionaries! 1 This guide will help you incorporate what your children hear on Sundays to their daily life by using fun, easy-to-understand adaptations of the true Bible stories. Not every pairing perfectly aligns with the texts for each Sunday, 2 but each selection pairs nicely with the theme. So, without further ado, here it is—the peanut butter and jelly you've been waiting for:
June 5, 2016—Third Sunday after Pentecost
Readings: 1 Kings 17:17–24 Galatians 1:11–24 Luke 7:11–17
This story, detailing how God provided for Elijah and how Elijah in turn provided for the widow, occurs immediately before the Old Testament reading for the Third Sunday after Pentecost. Reading this with your child before or after the worship service will provide narrative connection to the reading and confidence to rely on God for His providence.
This Arch Book captures the reading from Luke's Gospel in sixteen pages that will likewise capture your child's undivided attention. Reinforcing the Word, this book tells the story of Jesus raising the widow's son from the dead—a miracle that further teaches Jesus' authority and victory over death.
June 12, 2016—Fourth Sunday after Pentecost
Readings: 2 Samuel 11:26–12:10, 13–14 Galatians 2:15–21; 3:10–14 Luke 7:36–8:3
While no Arch Book uses this week's readings, these two beautifully capture the theme of this Fourth Sunday after Pentecost and focus on the promise of Easter. The sin of David and the account of the woman anointing Jesus' feet show our broken relationship with God, but Christ's death and resurrection lavishes the gift of forgiveness and salvation on the repentant. These books discuss the invasiveness of sin and the gift of forgiveness found in the readings.
June 19, 2016—Fifth Sunday after Pentecost
Readings: Isaiah 65:1–9 Galatians 3:23–4:7 Luke 8:26–39
In the Old Testament lesson for this Fifth Sunday after Pentecost, Isaiah records God's promise to "bring forth offspring from Jacob" (Isaiah 65:9). This prophecy of lineage originates from the story of God's promise to Jacob, which came in a dream. This Arch Book allows you to discuss God's chosen people, His children, and the promises He makes to them with your child, especially the promise of Holy Baptism that makes each of us one of God's chosen heirs.
In the reading from Galatians, Paul reminds us that we "are no longer a slave, but a son" (4:7). We are all God's children through Holy Baptism, and this story of Jesus and the children will help teach your children about the intimate relationship they have with Christ. In His death and resurrection He saves them, and in Baptism He clothes them in righteousness. This story reminds them how important they are as children of God, beloved by Christ.
June 26, 2016—Sixth Sunday after Pentecost
Readings: 1 Kings 19:9b–21 Galatians 5:1, 13–25 Luke 9:51–62
The Old Testament reading this Sixth Sunday after Pentecost comes after Elijah flees from the wrath of Jezebel. This Arch Book depicts how God defeated the prophets of Baal, proving that He alone is God by scorching Elijah's water-soaked offering. Then, in the reading for today, God comes to Elijah in a whisper rather than a celestial fireball. Reading this book with your child will support his or her understanding of the reading through context and show some of the different ways God calls us into His service.
All of the readings for this week focus on service and discipleship, and no Arch Book better illustrates the call to serve than the story of Jesus calling His disciples. As Jesus calls the Twelve, they set down all of their possessions and professions to serve as "fishers of men" (Matthew 4:19) in God's kingdom. The Gospel for this week shows how difficult this is, as many reject Christ's call. Read this with your child and discuss the difficulties we face as disciples and how we can model the Twelve, who dropped everything to follow their Savior.
June 5, 2016—Trinity 2
Readings: Proverbs 9:1–10 Ephesians 2:13–22 or 1 John 3:13–18 Luke 14:15–24
While no Arch Book currently retells these specific passages, the theme of being honored guests and children of God resonates in this week's Epistle and Gospel. The story of Jesus blessing the children allows you to connect the concept of being an honored guest with your child. Jesus demands that the children come to Him just as the host demands that his house be filled even by the undeserving. Remind your children that they, too, are called to their Lord's presence to receive His blessing every Sunday.
June 12, 2016—Trinity 3
Readings: Micah 7:18–20 1 Timothy 1:12–17 or 1 Peter 5:6–11 Luke 15:1–10 or Luke 15:11–32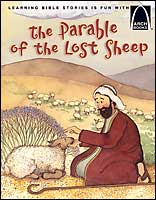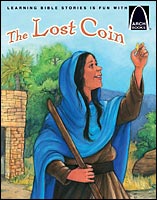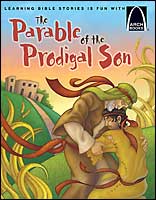 The two Luke readings relate either the parable of the lost sheep and the lost coin or the parable of the prodigal son, and each parable has an excellent depiction in an Arch Book. Help these parables come alive in your child's imagination by reading them in their illustrated form. All three parables are also available in the Best-Loved Parables of Jesus collection, along with three more fabulous parables of Christ. Use this tool as you connect your child with the service, giving him or her a better understanding of the Gospel for the day.
June 19, 2016—Trinity 4
Readings: Genesis 50:15–21 Romans 12:14–21 or Romans 8:18–23 Luke 6:36–42
Relating directly to the Old Testament reading for this Fourth Sunday after Trinity Sunday, this Arch Book tells the story of Joseph—from his father's unbalanced love to his brothers' betrayal and finally his choice to forgive them. Exploring this story with your child will connect him or her to the reading and teach the importance of forgiveness, leaving vengeance to the Lord, as Paul discusses in Romans 12, another reading for this Sunday.
What better story than Christ's death on the cross and resurrection from the dead to illustrate the mercy discussed in the Gospel this Sunday. In the selection from Romans 8, Paul cries out that creation is in "bondage to corruption" (v. 21) as we await the return of Christ. All of creation awaits this freedom, and as this Arch Book reminds us, this victory over sin has already been won! The triumph over sin, death, and the devil needs reinforcing over and over, and reading this with your children will help remind them of the redemption they have in Christ's death and resurrection and the future promise of His return.
June 26, 2016—Trinity 5
Readings: 1 Kings 19:11–21 1 Corinthians 1:18–25 or 1 Peter 3:8–15 Luke 5:1–11
This Fifth Sunday after Trinity Sunday features the calling of Jesus' first disciples, which is captured stunningly in this Arch Book. Read this with your child and discuss the calling Christ has for each of us. This book will help him or her to visualize the miracle of Jesus that allowed these fishermen to catch so many fish and follow His call.
Along with The Great Catch of Fish, this Arch Book details the calling of each of Jesus' disciples. Reading this with your child will prove a great resource as it recounts both the calling of the disciples depicted in today's Gospel and the calling of His other followers as well. Use this opportunity to discuss the calling of Christ in our lives as well, seeking to model the disciples' faith in Jesus.
Don't forget to check out all of our Arch Books at cph.org!
Pairing Arch Books with the Lutheran Lectionaries will continue each month. Please continue to provide feedback as we seek to serve you better through this monthly venture.
1 Both the three-year lectionary and the historic one-year lectionary are included.
2 We haven't published that many Arch Books . . . yet!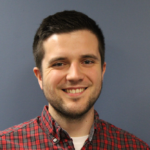 Jonah Schultz is an intern with Concordia Publishing House, studying Secondary Education English Language Arts at Concordia University Chicago. His favorite author is either Kurt Vonnegut or David Foster Wallace, and he maintains a slight obsession with fountain pens.