Confirmation Day isn't a graduation when students are done learning about the Christian faith. It's an important step in a lifelong journey of studying God's Word, sharing His love with others, and being renewed through Word and Sacrament.
The new confirmation curriculum from CPH keeps this as its focus, while offering flexibility so churches can adapt the curriculum to their students' needs. The materials align with the 2017 edition of Luther's Small Catechism with Explanation to make it easy for students to look up important teachings, dig deeper, and learn how to navigate the catechism. The program can be used to provide up to four years of confirmation instruction. Get an overview of the new curriculum here and look inside the new materials.
Options for Building Your Program
The new curriculum offers three components. You can use the different sections in various ways to create one-, two-, three-, or four-year programs.
The 60-Lesson catechism study offers the most extensive study of the 2017 edition of Luther's Small Catechism with Explanation—providing up to two years of instruction. A thorough, but less in-depth 30-Lesson catechism study is available for a one-year review of the Small Catechism. (Available July 2018)
The Bible overview provides a foundational course for students who are less familiar with the Bible or strengthens students' existing Bible knowledge. (Available Summer 2019)
Perhaps more than ever, students need to be able to defend their faith. The new Apologetics course equips students with the knowledge they need to champion their beliefs after the Rite of Confirmation and into adulthood. (Available Summer 2019)
Aids for Teaching and Learning
The teacher and student materials are designed to complement one another. In the teacher guides, teachers can see what students see in their workbooks, and helpful margin notes offer suggestions and directions but don't overwhelm with information.Teachers are encouraged to allow for silence and longer wait times so students can think deeply before answering questions, helping students develop stronger insights and connections.
All artwork is new and uses best practices in learning theory to make sure each student is engaged. Non-linguistic representations, graphic organizers, reflection questions, and colorful images serve as teaching aids for reading, writing, and discussing important matters of the faith. Digital components offer bonus activities and learning materials for the teacher, while audio devotions, and videos help parents or guardians reinforce the teachings at home.
Incorporating the Small Catechism
The new confirmation series is based on the 2017 edition of Luther's Small Catechism with Explanation. Three new versions of this edition are available, and teachers are encouraged to make use of them to help reach students with different ages and learning styles.
The 2017 hardcover edition uses the same classic format as the 1991 edition. With simple graphics, prayers, and answers to questions, this edition is perfect for devotional reading and for reference. The note-taking edition uses the same format as the hardcover, but it is spiral-bound with wide margins and printed lines. This edition allows plenty of room to jot notes and is great for simultaneously teaching older students how to annotate.
The revolutionary visual edition provides colorful spreads, engaging illustrations, charts, and callouts in an open-layout design. This edition benefits visual learners and younger students, helping draw them into the curriculum and visually reinforcing the teachings. The visual edition will arrive in July and is now available for preorder.
Because all three editions use the same numbering system for the questions and answers, students can use the different editions and still follow along. This means that teachers can keep things simple for themselves while accommodating the range of ways students learn.
Philosophy Behind the New Curriculum Series
The new confirmation curriculum draws on Timeless Truths: An Essential Guide for Teaching the Faith by CPH curriculum editor Rev. Pete Jurchen. This free ebook lays the groundwork for the new confirmation series by explaining how to teach the curriculum. Rev. Jurchen uses current educational research and best practices to share a philosophy for teaching the faith. He shares valuable insights about the nature of learning, strategies for designing lessons, and meaningful ways to assess student learning. This ebook is an ideal supplement for teachers to read before beginning confirmation instruction.
CPH's curriculum team recognizes that in many churches, confirmation classes are not always taught by pastors or DCEs. The new curriculum series helps even new volunteer teachers by giving them a practical framework. Students and their parents can use what they learn to embrace confirmation as part of their lifelong identity as children of God. May God bless you and your ministry as you connect students with God's Word and the greater faith family!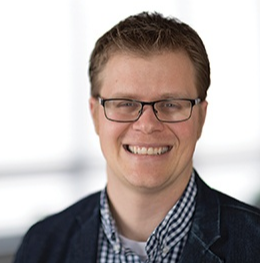 Rev. Pete Jurchen is Editor of Curriculum Resources at CPH. In addition to his MDiv, he has a MS Ed. in Curriculum Leadership and enjoys the pursuit of lifelong learning. He is honored to serve the congregations of the LCMS by equipping and partnering with its households in engaging their God-given vocations. He lives in Imperial, MO, with his wife, Deb, and his four children.