Christmas is the most joyous time of the year! It is important to share the Word of the Lord and the love of Jesus Christ, our Savior, this year with your children. These Arch Books help tell the story of Jesus' birth and help children learn about the different symbols that surround Christmastime. Enjoy these stories with a cup of hot chocolate and quality time with your children, and may God bless your family with a happy Christmas season and grant that you know the joy and peace of His promise of forgiveness.
The Songs of Christmas
Christmastime is filled with music, but not all songs point to the gift of our Savior from sin: Jesus, the Son of God. As you sing at church and at home with your family this season, encourage a focus on the real reason for our songs of joy: Jesus came to earth, died for us, and rose again. Because of this, we can someday sing praises forever in the presence of the Lord!
When Jesus Was Born
This book asks questions that children (and adults) may have: What were Mary and Joseph thinking as they anticipated Jesus' birth and His future? Were they frightened or uncomfortable, or were they at peace, confident in the knowledge that they were doing God's will? Were other people in Bethlehem, such as the innkeeper, aware that Mary was the mother of God? We may not have answers to those questions, but what we do know is that, however humble His arrival, our Savior from sin was born, in accordance with the Old Testament Scriptures, in Bethlehem.
O Bethlehem
Talk to your children about God's chosen birthplace for His Son and how God often uses the small and unlikely to do His will. Tell your children that, like Bethlehem, God has unique plans for him or her. Just as God chose that little town for a special purpose, He chooses us for His purposes too (see Ephesians 2:8–10).
Mary's Christmas Story
Why did God choose Mary to be the mother of His Son? Precisely because she was young, poor, and powerless, just as we are powerless in the face of sin and death. God worked through a humble young girl, a bewildered carpenter, a powerful Roman ruler, and many others to accomplish His plan of sending His Son to be our Savior. Explain to your children that God continues to work through His people today, using us to share His love with others.
On a Silent Night
It seems as though the story of our Savior's birth can never be told too many times. It draws us in with its wonderful and delightful images. There is the bond of a personal message of God's love made real through baby Jesus. Make this familiar story personal as you read it with your child. Look at the second-to-last page and talk about your favorite Christmas carol and how you enjoy singing about Jesus' birth. Sing a favorite carol together. Then look at the last page and reassure your child that the light of God's love still shines today.
The Christmas Angels
Angles are an enduring symbol of Christmas and of God's provision for us, but popular culture usually misrepresents them. As you read this book, help your children learn to differentiate between what popular culture says about angels and what God tells us about them. Above all, help your child understand that just like angels, our highest purpose is to give glory to God for His gift of a Savior.
Born on Christmas Morn
We do not have to wonder how the story of Christ ends. It begins in the third chapter of Genesis when God the Father promises to send the world a Savior from sin. The birth of our Savior at Christmas is but a part of the most wonderful story that continues with the servant sacrifice of Christ on the cross for our behalf and His glorious resurrection. Christmas is indeed a time for joy and celebration. But don't forget that the story is not yet over—for Christ is waiting to welcome us home to heaven, where all believers will live for eternity.
The Christmas Promise
Bible stories and psalms remind us that the Lord keeps His promises and that these promises extend to all of His children throughout all time. Jesus came to bring forgiveness and eternal life to those who would believe. After you read this book with your child, talk to them about examples of God's promises and how they are always fulfilled.
Oh, Holy Night!
Talk to your children about the sounds of the animals in the stable; then ask them to imagine a quiet, dark night with a few twinkling stars and the soft bleating of lambs as they nestled against their mothers. The shepherds were watching their sheep as usual until—the best birth announcement ever—angels gave a concert for the lowly shepherds. The most beautiful voices ever heard on earth were sung that holy night. After you read this book, ask your children what they think Christmas is all about, and sing a carol or hymn that focuses on Jesus. It is when we keep Christ at the center that we can fully experience the joy of Christmas.
The Christmas Connection
It's important for us to remember that the real story of the first Christmas is the love of God for His people and how He shows us that love—through the humble birth and death of His only Son. Although there is nothing wrong with festivities, they should serve to point us to the Christ of Christmas, to His love for us, and to His ultimate act on the cross that reconciles the sin-darkened world to the glorious lights of heaven.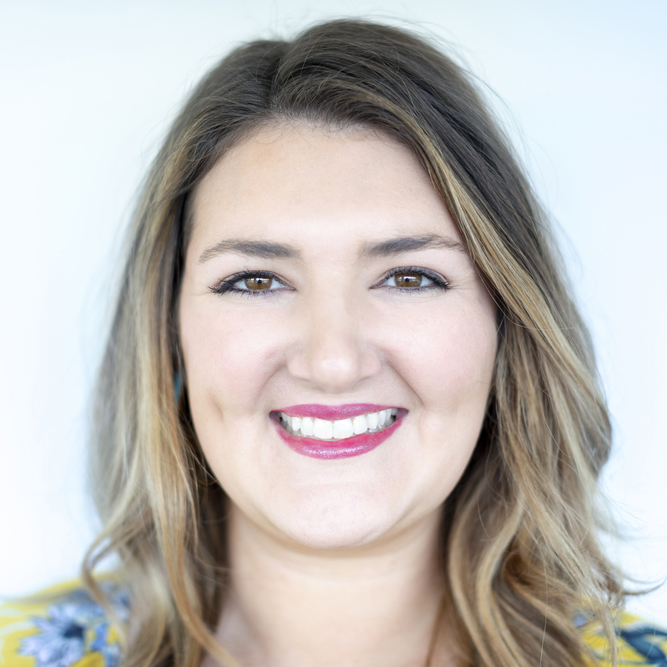 Lindsey Martie joined the Public Relations team at Concordia Publishing House in 2014 after graduating from Mississippi State University (Go Dawgs!). A southern transplant, she values all things southern – except for sweet tea. In her free time, Lindsey likes to travel, cook, and spend time with her two dogs and family.