Arch Books and the Lutheran lectionary relate too often not to connect the dots. Like the post from last month, each Sunday's readings have been connected with an Arch Book that gives the stories a visual life. Children will love reading these colorful books, and reading Bible stories with parents will enrich each Sunday's experience. Arch Books have been matched with both the three-year and historic one-year lectionaries. Check out the selections for July!
July 3—Seventh Sunday after Pentecost
Isaiah 66:10–14
Galatians 6:1–10, 14–18
Luke 10:1–20
This week our readings don't match any Arch Books in print, but this selection will enhance your little one's understanding. The Fruit of the Spirit, based Galatians 5:22–23, will give you an opportunity to discuss the way we should act as Christians, and reading this Arch Book along with the Epistle will help initiate many fruitful discussions this Sunday.
July 10—Eighth Sunday after Pentecost
Leviticus (18:1–5) 19:9–18
Colossians 1:1–14
Luke 10:25–37
The Story of the Good Samaritan
This Arch Book illustrates the Gospel for this Sunday. It retells the parable in vivid color and simple rhymes, aiming to support your little one in learning the Bible. Read this story with them before or after church and make the connection between this book and the Gospel.
July 17—Ninth Sunday after Pentecost
Genesis 18:1–10a (10b–14)
Colossians 1:21–29
Luke 10:38–42
Mary and Martha's Dinner Guest
Like the pairing for last week, this Arch Book depicts Sunday's Gospel in a child-friendly manner. The story of Mary and Martha—the latter working for Jesus' praise while Mary sits and listens—will help you teach your child the importance of God's Word. As Martha exhausts herself preparing the meal, Mary sits quietly and listens to Jesus. Jesus doesn't need us to work for His approval. He just wants us to listen.
July 24—Tenth Sunday after Pentecost
Genesis 18:(17–19) 20–33
Colossians 2:6–15 (16–19)
Luke 11:1–13
Jesus teaches His disciples to pray in the Gospel, and this Arch Book will help your little one visualize what we ask our Lord in His prayer. Whether your child knows the Lord's Prayer by heart or not, this book is a valuable encouragement in his or her own life of prayer. Teach your children how privileged we are to pray, and don't be surprised when they start reading this Arch Book all on their own.
July 31—Eleventh Sunday after Pentecost
Ecclesiastes 1:2, 12–14; 2:18–26
Colossians 3:1–11
Luke 12:13–21
The Rich Fool (found in the Arch Books Treasury)
The Gospel for this Sunday is found in one of our original Arch Books from 1964, available in the Arch Books Treasury: Vintage Collection, 1964–1965.* The classic art invigorates Christ's short parable, and the poetry teaches the temporary nature of our possessions and the importance of our faith in Jesus—the only thing we keep when we die. Read this with your little one and talk about how possessions are worthless compared to Jesus and His promise of salvation.
*Also in this Treasury collection is a classic version of the parable of the Good Samaritan and ten other fantastic old-school Arch Books.
---
July 3—Sixth Sunday after Trinity
Exodus 20:1–17
Romans 6:(1–2) 3–11
Matthew 5:(17–19) 20–26
This Arch Book recounts the story of Moses going up the mountain and receiving the Ten Commandments from God—the Old Testament reading for this Sunday. The beautiful story will show your little one where the Ten Commandments came from and the story surrounding them. This will enrich their experience in church as they hear these Commandments in the reading.
July 10—Seventh Sunday after Trinity
Genesis 2:7–17
Romans 6:19–23
Mark 8:1–9
Where Did the World Come From?
The Old Testament reading this Sunday tells how God formed man, and this Arch Book tells the entire story of creation. Read this story with your children to help teach them about how God made the world and made us. This story will help them connect with the Old Testament reading, putting the creation of man in context with the creation of the world.
July 17—Eighth Sunday after Trinity
Jeremiah 23:16–29
Acts 20:27–38 or Romans 8:12–17
Matthew 7:15–23
The Lesson of the Tree and Its Fruit
Jesus teaches on bearing fruit in the Gospel for this Sunday, and that parable comes to life in this Arch Book, giving your child clear visuals of Jesus' metaphoric language. The book teaches the meaning of the parable in easy poetry directed toward children. Reading this with your little ones will show them how God helps them produce fruit in their lives.
July 24—Ninth Sunday after Trinity
2 Samuel 22:26–34
1 Corinthians 10:6–13
Luke 16:1–9 (10–13)
None of the readings this Sunday correlate to an Arch Book, but the themes of temptation, praise, and provision emanate from the texts—building blocks for prayer. This Arch Book teaches the Lord's Prayer. It depicts how Jesus taught us to pray in response to temptations, in praise to God, and in petition for His provision. Explain to your little one the importance of this prayer and how it connects to the Scripture readings for this Sunday. Teach them how this prayer responds to everything in our lives.
July 31—Tenth Sunday after Trinity
Jeremiah 8:4–12 or Jeremiah 7:1–11
Romans 9:30—10:4 or 1 Corinthians 12:1–11
Luke 19:41–48
This Arch Book complements the Gospel for this Sunday, which relates Jesus' weeping over Jerusalem and cleansing the temple. The entrance into Jerusalem preceded the events in the Gospel, so you can use this Arch Book to set the scene. Show your little ones the importance everyone placed on Jesus—how they laid their coats before Him and hung on His every word. Teach them to hang on His every word too.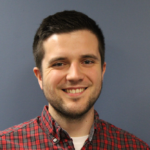 Jonah Schultz is an intern with Concordia Publishing House, studying Secondary Education English Language Arts at Concordia University Chicago. His favorite author is either Kurt Vonnegut or David Foster Wallace, and he maintains a slight obsession with fountain pens.