Arch Books and the Lutheran lectionary relate too often not to connect the dots between the two. Like the post from last month, each Sunday's readings have been connected with an Arch Book that gives the stories a visual life. Children will love reading these colorful books, and reading Bible stories with parents will enrich each child's Sunday experience. Arch Books have been matched with both the three-year and historic one-year lectionaries. Check out the August Arch Books lectionary pairing!
August 7–Twelfth Sunday after Pentecost
Genesis 15:1–6
Hebrews 11:1–16
Luke 12:22–34 (35–40)
The Old Testament reading this week tells the story of God's promise to Abraham—that he would have generations of offspring more numerous than the stars in the sky. This Arch Book shares the story of that promise and Isaac's birth. Read this story with your little one, giving this week's Old Testament reading more context.
August 14–Thirteenth Sunday after Pentecost
Jeremiah 23:16–29
Hebrews 11:17–31 (32–40); 12:1–3
Luke 12:49–53 (54–56)
This week the Epistle discusses the challenges God's people faced in the Old Testament and their faith in God's plan. Faith in God was necessary for Moses' parents to keep him alive despite Pharaoh's murderous edict. Read this Arch Book with your little one and talk about how God takes care of us just as he took care of Moses.
August 21–Fourteenth Sunday after Pentecost
Isaiah 66:18–23
Hebrews 12:4–24 (25–29)
Luke 13:22–30
This Sunday's readings deal with the inescapable nature of sin and the coming judgment. However, we are likewise freed from sin, saved by Jesus' precious blood, and invited to feast in the heavenly kingdom with Him. This Arch Book focuses on the victory Christ has over sin and our eternal reward through His death and resurrection.
August 28–Fifteenth Sunday after Pentecost
Proverbs 25:2–10
Hebrews 13:1–17
Luke 14:1–14
Humility and service characterize the readings this week as we are called to not think too highly of ourselves. In the Gospel, Jesus says, "Everyone who exalts himself will be humbled" (Luke 14:11). The story of Jesus washing the disciples' feet expands on the importance of humility and service, and this Arch Book will help teach your little one how to live as a servant like Jesus.
---
August 7–Eleventh Sunday after Trinity
Genesis 4:1–15
Ephesians 2:1–10 or 1 Corinthians 15:1–10
Luke 18:9–14
The Old Testament reading this Sunday tells the story of Earth's first brothers: Cain and Abel. This Arch Book illustrates the story of jealousy and hate—the sins of Cain. Read this book with your little one to give him or her a visual to support the Old Testament reading, being sure to discuss jealousy and how God wants us to love one another.
August 14–Twelfth Sunday after Trinity
Isaiah 29:17–24
2 Corinthians 3:4–11 or Romans 10:9–17
Mark 7:31–37
The story of Jesus healing the deaf man does not appear in the Arch Books series, but the story of Jesus healing Bartimaeus (Mark 10:46–52) will substitute as a story of Jesus' great power and His desire for those He heals to "tell no one" (even though they always do). Reading this Arch Book and talking about Sunday's Gospel reading will help you teach your little one about Jesus' humility and love demonstrated through His miracles.
August 21–Thirteenth Sunday after Trinity
2 Chronicles 28:8–15
Galatians 3:15–22
Luke 10:23–37
The Gospel for this Sunday conveys the parable of the Good Samaritan, and this Arch Book shares the same story. Reading this book with your little one will help him or her picture the parable. Talk about the importance of loving others and serving them no matter what your differences may be.
August 28–Fourteenth Sunday after Trinity
Proverbs 4:10–23
Galatians 5:16–24
Luke 17:11–19
This week's Gospel reading again mirrors the Arch Book—the story of Jesus healing the ten lepers, though only one chose to thank Him. This story shows the awesome power of Jesus to heal, and it also teaches the importance of thankfulness in response to gifts. Read this book with your little ones and teach them the importance of thanking God for the free gifts He gives, even if there is no requirement.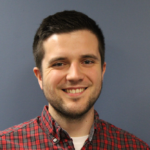 Jonah Schultz is an intern with Concordia Publishing House, studying Secondary Education English Language Arts at Concordia University Chicago. His favorite author is either Kurt Vonnegut or David Foster Wallace, and he maintains a slight obsession with fountain pens.