Faithful readers, you have answered our call! We asked you to tell us which CPH books were YOUR favorites in 2015. You voted, you liked, you shared, and now we've tallied the votes!
The winners of the 2015 CPH Readers' Choice Awards are . . .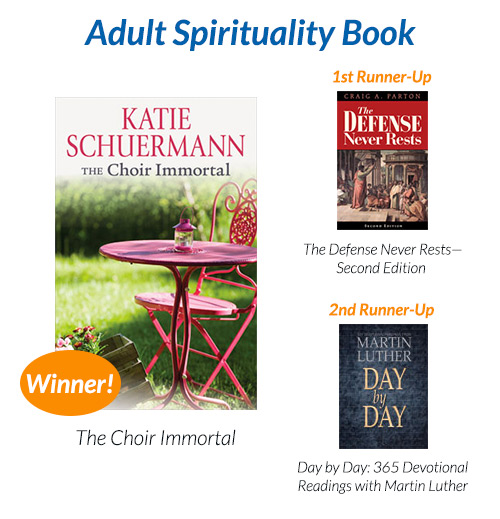 Winner: The Choir Immortal
Last year, author Katie Schuermann delighted readers with the lovable, quirky characters in her novel House of Living Stones. This year, the compelling sequel, The Choir Immortal, drew us in again! Emily Duke, Pastor Fletcher, and the rest of Zion Lutheran Church's flock returned with new trials, rallying together to support each other with God's love, His promises of life and salvation, and maybe some snot-covered blouses. Learn more >
1st Runner-Up: The Defense Never Rests—Second Edition
Readers like you have appreciated this author's pilgrimage from unbelief to Lutheranism, his hard-hitting critique of shallow worship and theology, and his honest approach to defending the faith. Learn more >
2nd Runner-Up: Day by Day: 365 Devotional Readings with Martin Luther
Your love for this book showed us that even after five hundred years, Luther is still one of the most influential people in history! Start every day with him with 365 devotions drawn from his writings. Learn more >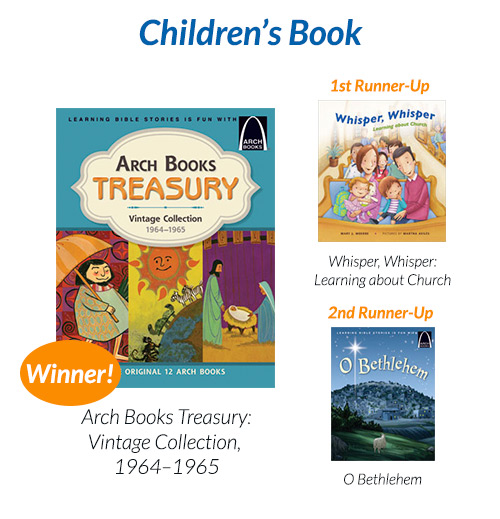 Winner: Arch Books Treasury: Vintage Collection, 1964–1965
In 1965, children and their families began learning Bible stories with our brand-new Arch Book series. Your votes showed us that even today, these books hold a special place in the hearts of grandparents, parents, and kids worldwide! Take a walk down memory lane—and make new memories!—with this faithful reproduction of the first twelve Arch Books that started it all. Learn more >
1st Runner-Up: Whisper, Whisper: Learning about Church
Shh! It's time to learn about church! With rhyming text, in-sanctuary tips, and colorful illustrations, this interactive book has helped your children get church's rituals and routines down pat! Learn more >
2nd Runner-Up: O Bethlehem
When Jesus was born, He wasn't laid in a royal bed—He was laid in a manger! With this brand-new Arch Book, your little ones have loved learning that God often works through such humble means. Learn more >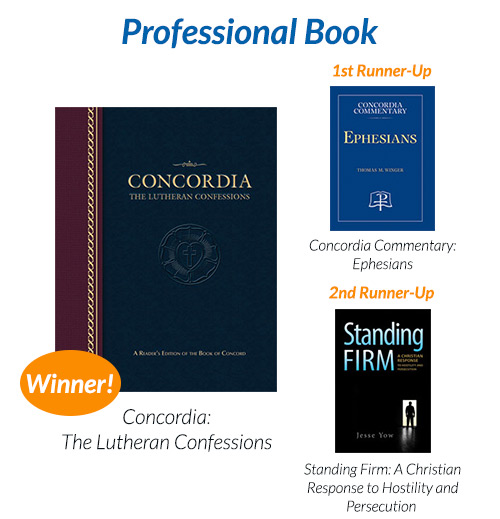 Winner: Concordia: The Lutheran Confessions
We believe there's nothing more important than clearly confessing and bearing witness to the truths of God's Word. And you, our readers, agree! Because inspiring and educating people in the faith is what the Book of Concord is all about. This old book isn't just for pastors. It's for every Christian, full of helpful introductions, insightful notes, and tools to help you understand the chief documents in the Lutheran Confessions. Learn more >
1st Runner-Up: Concordia Commentary: Ephesians
A veritable compendium of St. Paul's theology, this extraordinary resource lost by only two votes! Our readers couldn't get enough of the precise analysis of the epistle's original Greek text. Learn more >
2nd Runner-Up: Standing Firm: A Christian Response to Hostility and Persecution
How will you respond? With persecution being a hot-button topic worldwide, readers soaked up this author's suggestions for a Bible-focused response. Learn more >
Did your favorites make it to the top? Leave a comment and tell us which books YOU voted for!