What does it mean to be a Lutheran school?
How does our faith inform the way we go about education?
In what ways can Lutheran schools share Christ to impact lives eternally?
The Pedagogy of Faith: Essays on Lutheran Education, coming this summer, answers these questions. Dr. Bernard Bull explains, "The Pedagogy of Faith is the first of its kind in Lutheran education. Never before has there been a more diverse collection of authors and topics distilled into a single text on Lutheran education. Authors include theologians, University professors, classroom teachers, directors of Christian education, school leaders, missionaries, parents, and pastors. . . . Even amid such a diverse collection, every author shares an understanding of the Scriptures as the inspired and inerrant Word of God, a recognition of the Lutheran Confessions as a 'true and binding exposition of the Scriptures,' a commitment to excellence in Lutheran education, and a desire for it to flourish long into the future."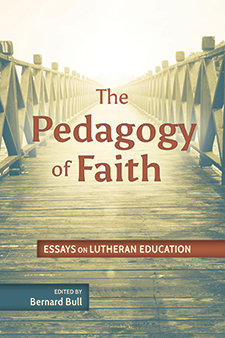 Pre-order The Pedagogy of Faith
Add The Pedagogy of Faith to your Goodreads shelf