I have a confession. I'm a terrible audiobook listener. But in a way, I'm sort of grateful for it.
I'm the resident insomniac in my family. When I was little, I used to sneak downstairs after my parents tucked me in, and in my head they had no idea I was hiding behind the couches when they were watching TV. They were grateful when I learned to read because I could keep my insomnia to myself, in my room, as late as I wanted to.
Enter adulthood. And glasses. Usually my eyes are fried by the end of the day, and sometimes my brain is so chaotic and worn out that I have trouble focusing on what I'm reading. So, listening to something when I get into bed helps me wind down. And relax. And . . . sometimes fall asleep right in the middle.
Though I love audiobooks because they help treat my lifelong insomnia, some might say that we at CPH love audiobooks a little too much. Unfortunately for them, but fortunately for our amusement, a few of my fellow CPHers have gotten into some rather strange situations because of their beloved audiobooks. Here are some of their stories.
"I once missed the announcement for boarding a non-stop flight from St. Louis to Milwaukee because I was listening intently to an audiobook and working through a backlog of emails. This included all subsequent 'looking for passenger Scot Kinnaman' announcements. The only other available flight to Milwaukee that day routed through Orlando. Florida."
—Scot Kinnaman, Editorial
"I was in college and working on a drawing in the big, open studio while listening to The Hitchhiker's Guide to the Galaxy. Laughed so hard that I interrupted the class that was working in there at the same time. Apparently everyone stopped to look at me. I had no idea."
—Meagan Thole, User Experience
"I was listening to The Way of Shadows while walking to class. I walked in, sat down in the back, and continued to listen as it was a really exciting part of the book. Didn't realize for five minutes that my 'Greek' class was actually statistics. I slowly packed up all my stuff and walked out of the room to the classroom next door."
—Jason Britton, Conventions
"I got hit by a car while running and listening to an audiobook. It was low speed—the driver slid on ice at a stop sign. It was more like a gentle tap but it still counts."
—Jeremy Roegner, User Experience
"I was taking the L in Chicago on my way to school. I pretty much forgot that I was going to school because I was listening to World War Z. I missed my stop, and of course I was rushing in totally late with my arms full of art supplies. I looked totally lost that day."
—Alex Ha, Graphic Design
Have you had an audiobook fail? Tell us your story in the comments below.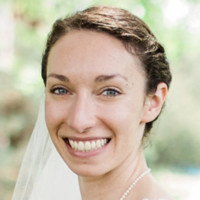 Erica is a writer and editor in St. Louis with grand plans to write award-winning literary novels and to visit all seven continents. She was previously a copywriter at CPH and now works in the advancement office at Concordia Seminary. She is also currently pursuing an MFA in creative writing at Lindenwood University.