In your video, we saw you making these beautiful prints. Is that a hobby of yours or something you did for the first time? You looked like a pro.
This is not something I normally do, but I love good art. Because of that, when I stumbled upon this shop in Detroit, it made perfect sense as an opportunity to blend the theology of Luther with a beautiful piece of art. On top of that, there was something exciting about working on a project to bring Luther's writing into the twenty-first century while simultaneously relying on an old-school printing press to create this contemporary piece of art.
Other than Romans, what other Luther commentary would you suggest to people?
Luther's commentary on Galatians is without a doubt my favorite. In it Luther spends a lot of time making clear the distinction between Law and Gospel. And because of the length and style, it is a bit more readable than some of Luther's other works.
What prompted you to write Reading Romans with Luther?
I have seen a growing number of people who resonate with Luther and many of the theological distinctions that he teaches, yet they are unfamiliar with his works. There's a lot of interest in Luther, but the moment any of those people open a book by Luther their eyes glaze over.
My goal with this book is to take something not accessible for the normal person—and Luther's commentary on Romans is definitely out of reach for most people—and to bring it into the twenty-first century.
It's still Luther. And it's all rooted in his theology, yet it is designed and rearranged and has added commentary to make it accessible regardless of someone's familiarity with Luther.
What advice do you have for people who are nervous about diving into Luther's Works?
I get it. In fact, some of his works make me nervous too. That's okay. If you're nervous about diving into Reading Romans with Luther, we will do this together. I'll guide you through and break it up so you can take a break from Luther's voice and hear my own. I'll rearrange it for you so it makes sense thematically. You're not alone; that's why we made this book.
And if you're going to jump into something else, that's awesome! That's actually one of my hopes in this, that it will ease the transition into more of Luther's writing. My encouragement would be to read what you can and don't be discouraged if you need to set it down and come back to it later. If you can read only a page, then read just a page and come back later.
What else do you enjoy reading besides theology?
Between my job as a pastor and my work in seminary, most of my reading is theology. On top of that, I love reading the theological books that normal people don't like to read. I've never really been a big fiction reader. I will at times enjoy a good business/leadership book.
Any books that fall outside of the theology category are generally the books I read with my kids. So princess books and superhero books are pretty popular in my house.
How is it that Luther is still so relevant for us today?
The Reformation went viral with the posting of the Ninety-Five Theses. In a day and age when people couldn't read the Bible in their own language, they thought grace had to be earned, and certain work was considered more sacred than other work. Luther unlocked something that had been lost.
Luther didn't want to change anything, he just wanted people to go back to what the Church was truly all about. He didn't want to change the Bible, he just wanted it translated into the language of the people. He didn't want to change the message of grace, he just wanted to make sure people realized how they were ignoring it. He didn't want to eliminate the priesthood, but he did want to emphasize the priesthood of the baptized.
In this age of technological advancement, much like that of the printing press, the Church needs a recovering of what was happening in the Reformation. Today, people have access to the Bible, yet biblical literacy is unbelievably low. Grace is routinely lost within Christianity and replaced with a message of "do more, try harder." And God's calling—the significance of loving and serving your neighbor where you are—has been minimized.
I love how Robert Capon describes the Reformation, and I believe the same is needed in the Church today:
The Reformation was a time when men went blind-staggering drunk because they had discovered, in the dusty basement of late medievalism, a whole cellarful of fifteen-hundred-year-old, 200-proof grace — of bottle after bottle of pure distillate of Scripture that would convince anyone that God saves us single-handed. The Word of the Gospel, after all those centuries of believers trying to lift themselves into heaven by worrying about the perfection of their own bootstraps, suddenly turned out to be a flat announcement that the saved were home free even before they started. . . . Grace was to be drunk neat: no water, no ice, and certainly no ginger ale; neither goodness, nor badness, nor the flowers that bloom in the spring of super-spirituality could be allowed to enter into the case. —Robert Capon, Between Noon and Three
Quote from Robert Farrar Capon, Between Noon and Three (Grand Rapids: Eerdmans, 1997), 109–10.
Are you a beer drinker? If so, what is your favorite?
Absolutely. I believe it was Ben Franklin who said something like, "Beer is proof that God loves us and wants us to be happy." I'm pretty committed to my Michigan breweries: Bell's, Short's, Founders, and Kuhnhenn are at the top of my list. I could keep probably keep going on this list for a while.
What is your favorite vacation spot?
My family is all about Disney World, and we go there as much as we can.
Do you have any tips for writers?
Write, write, and write. The only way to get better at writing is to do it. And then find people who are better than you at it and learn from them.
What is your favorite Luther quote?
I'll pick one from Reading Romans with Luther since that's what I've been reading a lot lately, but my favorites are usually changing from week to week. "The Church is the inn and the infirmary for those who are sick and in need of being made well."
I love this quote because of implications it has for the Church in terms of both her message and her mission. Justification by grace through faith is front and center. And that message informs our mission—to make sure that all who are sick get the remedy.
Whom do you look up to?
There are two men in particular who have shaped me significantly.
My dad has taught me to be the man, the husband, and the father that I am today. He's loved us, cared for us, and worked for us nonstop, and I hope to be the kind of dad to my kids that he was for us as kids. Pastor Joe Casiglia, my friend and pastor, has taught me what it looks like to be a servant leader. He's shown me what it looks like to put his family first, and he's been someone I go to when I need something.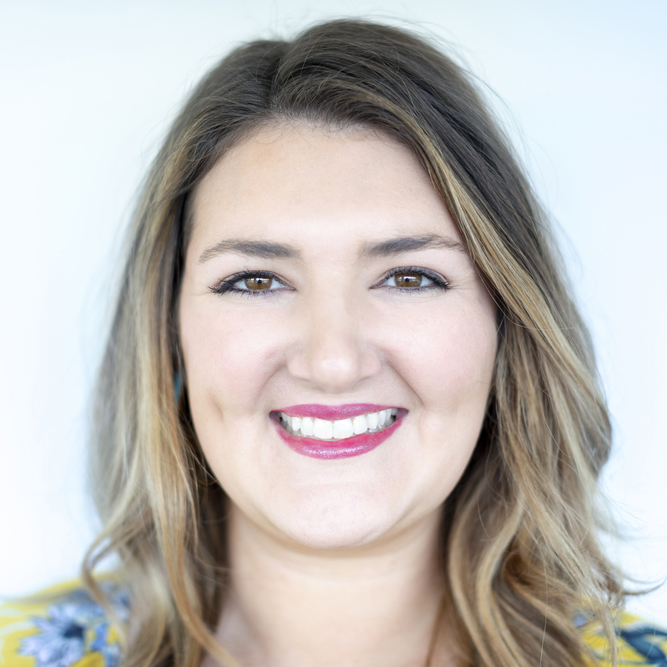 Lindsey Martie joined the Public Relations team at Concordia Publishing House in 2014 after graduating from Mississippi State University (Go Dawgs!). A southern transplant, she values all things southern – except for sweet tea. In her free time, Lindsey likes to travel, cook, and spend time with her two dogs and family.