We took a coffee break to sit down and chat with author Deb Burma about her new Bible Study and devotional duo Sip, Savor, and Drink Deeply. She told us about her go-to drink at the coffee house and what she loves most about meeting her readers, and also gave us some solid advice on life!
It's obvious that you love coffee, but what is your favorite drink?
I especially LOVE a flavored latte, hot or frozen (in which case, it's called a frappe!). Currently, my favorite flavor is a specialty blend of brown sugar cinnamon and white chocolate syrups. Swirled together with milk and espresso, the resulting latte is called "Cinnamon Roll" and it's amazing! I love it a latte. (And you will too, after you take your first sip…)
Why did you write Sip Savor?
I have frequented coffee shops countless times when I've sought space away from the daily grind to spend with my Savior in personal Bible study, writing time, and prayer.
I've happy-danced every time a friend has asked, "Can you meet for coffee?" (I know that no matter what fills our cups, the talk time will fill and refresh us even more!) I've looked around and found others enjoying conversation, camaraderie, and connection over a cup.
As I have searched the Scriptures, I've learned again and again of God's gifts which overflow for me in Christ. I'm drawn to the imagery of meeting my Savior with my "cup"---myself---a vessel created and called by God, redeemed in Christ, and ready to be filled (to overflowing!) for His purposes.
God guided me through His Word, providing depth, direction, and inspiration to create a coffee-shop-themed Bible study which began as a women's retreat and grew into the seven-session book before you today. Beginning in Scripture, the imagery of the cup gave way to even more relatable wordplay for this enticing topic filled with coffee shop illustrations and beverages. (As you already know, I love a latte…and everything else on a coffee shop's menu!) While enticing and invigorating, the beverages (and other coffee talk) actually serve to introduce God's provision and promises from His Word, beginning with the overflowing supply of His gifts for us in Christ, as we examine our cups in light of God's grace. From the reader's first sip, she'll want to savor God's Word, and as she studies, she'll drink deeply of His promises that find their Yes in Christ! (2 Corinthians 1:20).
What is your favorite recipe in the study?
Two recipes tie for favorite! 1. Perpetually-Yours Chocolate Cherry Coffee Cookies (The title alone is a mouthful, right? Wait until you've tried a mouth full of them!) 2. Espresso-Chocolate Chip Scones with Coffee Glaze, served on the side of your favorite beverage; it's packed with energy! (A carbohydrate- and caffeine-lover's dream!)
Is this study only for coffee lovers?
Not at all. It's a study for anyone who desires to meet with her Savior---alone or gathered alongside girlfriends---around a cup. (Maybe she'll sip a chai tea, hot chocolate, a smoothie, or a steamer!) Whatever fills her cup, she'll receive an overflowing supply of God's good gifts, poured out especially for her in Christ.
Why is it so important for women to take a break from the daily grind of life?
It's in the daily grind that a woman often finds herself parched, empty, or depleted. She pours herself out for everyone and everything that's on her plate, so she may be in desperate need of a refill. Where will she find true refreshment and how can she receive that refill? Jesus beckons her to take a break to meet with Him. He knows how much she needs His rest, His strength, His words of comfort: "Come to Me, all who labor and are heavy laden, and I will give you rest" (Matthew 11:28). Session Two examines the cup, as it is "Poured Out (In the Daily Grind)", leveled, and able to receive a refreshing, refueling refill.
Living a Chocolate Life has been a very popular study for women; how would you compare it to Sip Savor?
What a fun question! While Living a Chocolate Life builds on the premise of savoring God's sweet grace in Christ, Sip, Savor, and Drink Deeply speaks of receiving God's overflowing gifts as the reader examines her cup in the light of His grace. Though the topics of the two books are different, the layout and the facilitator-friendly format are purposely very similar! Additionally, both capture a woman's attention with a relatable (delicious!) topic and draw her into God's Word through illustration, analogy, and story. (She can envision savoring a morsel of rich, sweet chocolate or sipping a favorite coffee-house beverage, poured out in overflowing measure!) Ordinary, everyday topics lead her to the extraordinary Word of God and the new life she has in Christ, by His grace.
Features found in Sip Savor, similar to those in Chocolate Life, include: a Coffee Break quiz, which serves to break the ice for group study and provide a teaser to the topic that follows. A Memory Verse encourages the reader to commit Scripture to memory. Take a Sip questions provide opportunity for personal reflection, while He Fills Your Cup questions lead to meaningful Scripture study. Every session includes a Fresh-Brewed Fun Fact and a special Coffee Shop Recipe, tied to the topic of the session, along with an Espresso Yourself hands-on group activity that offers fun and fellowship while providing a tangible means of reaching out to share God's overflowing gifts with even more women.
How does it feel for you to have your Chocolate Life Bible Study and Devotional available to women in Spanish-speaking countries?
I cannot begin to express just how humbled AND excited I felt (at the same time!) as I learned that my Chocolate Life books were going to be translated into Spanish. The same feelings returned as I held the finished products in my hands. Because I only know a few words in Spanish, I was again humbled as I paged through this beautifully translated Bible study and devotional that I couldn't even read, even though I had penned them in English, by God's grace and guidance. (I'm so thankful for the incredible translation department at CPH!) While I may not meet my Spanish-speaking sisters in Christ from other countries, I treasure the thought of them receiving the Good News of their Savior, as shared through these chocolate-themed, grace-filled books.
I am blessed with the opportunity to partner with my local church's Hispanic ministry. I'll get to personally share these books, translated into the heart language of Spanish-speaking women right in my own community! I am absolutely thrilled that we can now savor and share God's sweet grace (chocolate-style!) in Spanish.
You travel and speak a lot to different women's groups. What is your favorite part about that?
There's nothing quite like sharing the saving love of Christ, leading women in the Word, and encouraging them in their walk with the Lord, as I engage with groups across the country and as I communicate personally with women during my travels. I love listening to and learning about their concerns and questions, their interests, and their life experiences, all of which have impacted my prayer life, my speaking, and my writing. I get to know so many "sisters" as I travel, and I'm overjoyed when we stay in touch and even have opportunity to reconnect, face-to-face!
Stories like this one speak to my favorite part: Following a weekend retreat, a woman came to me in tears, telling me that while she had known of God's love, it wasn't until she'd heard the message of Living a Chocolate Life that she grasped the extent of His grace for her in Christ. Prior to the retreat, she had secretly believed that the sins of her past were too great to receive His undeserved forgiveness. With joy, she shared how the Word of God impacted her throughout our time together; she left, knowing that her sins are forgiven; that God lavishes His rich, sweet grace upon her in Christ Jesus!
What is your favorite Bible verse?
I have a handful of favorites, but this one has been especially meaningful as I've penned this Bible study and devotional: "May the God of hope fill you with all joy and peace in believing, so that by the power of the Holy Spirit you may abound [overflow] in hope" (Romans 15:13).
What is the best piece of advice that you have ever received?
Live this day as though it may be your only opportunity to impact someone's life for Christ (the "someone" He's placed in your path today).
Specifically as an author, I have another "best" piece of advice: write what you know. It's what matters to you. It's what you've lived, experienced, and learned, by God's grace. Share it.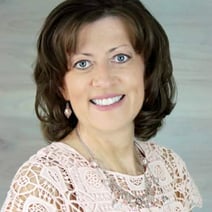 Deb Burma is a sought-after speaker for women's conferences, retreats, and leadership workshops.
She is the author of several Christian-living books, Bible studies, and devotionals, including Stepping
Out: To a Life on the Edge, Living a Chocolate Life, and Beautiful Feet. Deb is a follower of Jesus, a wife, and a mom. She is a devoted coffee-mocha-latte-cappuccino drinker too.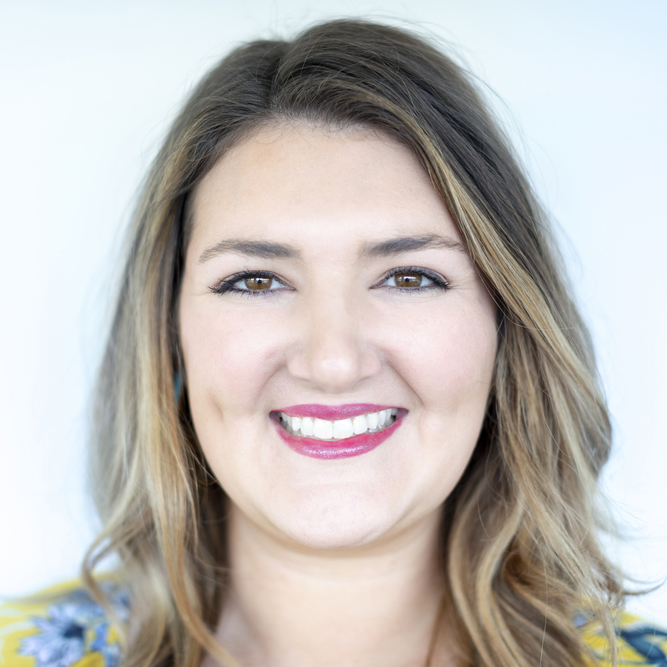 Lindsey Martie joined the Public Relations team at Concordia Publishing House in 2014 after graduating from Mississippi State University (Go Dawgs!). A southern transplant, she values all things southern – except for sweet tea. In her free time, Lindsey likes to travel, cook, and spend time with her two dogs and family.