On June 3, Peter C. Reske's new collection, The Hymns of Martin Luther, was released by Concordia Publishing House. In an effort to learn more about this complete collection and what makes it special, we sat down with Peter and asked him some questions.
---
What inspired you to write this collection?
It was really just a need. There are German collections of Luther's hymns and intense academic collections. But these hymns were not all together in one place, in English, in a straightforward, singable version (like in the hymnal).
So we know there are hymns, but what else can I find in my copy of The Hymns of Martin Luther?
Not just hymns! There are also chants and ballads, like "My Bride, the Church, Is Dear to Me." I wouldn't recommend singing this one with a congregation, but it has a lovely melody, perfect for solo singer. And lute, if you have one.
You'll also find a brief description of each hymn. These were adapted from Henry Gerike's booklet that came with our Martin Luther CD set. You could go through the book, reading just these paragraphs, and get a little insight into Luther as hymn-writer. But I hope you sing the hymns too.
What's your impression of Luther as a hymn-writer? Is there anything about his hymns that are distinct musically?
Luther's hymn texts are probably not the best examples of refined poetry. His language is common (but not vulgar). And he paints such vivid and memorable pictures! The melodies are quite varied: from flowing chant to muscular, rugged congregational hymns. This was the musical Renaissance, after all.
Can you describe the process of taking sixteenth-century melodies and developing this conventional harmonization?
It's a tricky thing to take a tune from 500 years ago and give it a musical setting that makes sense to twenty-first-century ears but is still respectful of the sixteenth-century nuance. There was no way I was taking this on myself, so I asked Henry Gerike to tackle it. Many of the settings in the book come from familiar hymnals, but Henry did a splendid job with those handful of tunes that didn't have a good setting.
So, with Luther's hymns, do we have only the sixteenth-century melodies left?
Back then, the congregations were typically singing in unison. Musical settings of hymns in Luther's time were for choirs, and there are loads of these still available. Check out the Lutheran Choral Anthology. But the melody in these choral settings was usually in the tenor part. It would be a few years before the melody was in the uppermost part as we're used to it today.
What's the most interesting thing you learned during your research?
In 1524, a man was arrested for selling copies of two of these hymns. Makes publishing today seem pretty tame!
Got a favorite hymn?
No. I have countless favorite hymns, and the list is always changing. It would be much easier to list my least-favorite hymns. But I won't do that.
How about a favorite composer?
Favorite composers include J. S. Bach, Schütz, and Shostakovich. Favorite hymn-writers include Paul Gerhardt, Martin Franzmann, and Stephen Starke.
What song is stuck in your head right now?
It's the "Danse générale" of Maurice Ravel's Daphnis et Chloé. Listen to it on YouTube. It's good.
Why should someone buy the collection in five words or less?
My wife likes it.
---
Reske's complete collection of Luther's hymns is available now at cph.org. Check out other new music resources from Concordia Publishing House here.
About Peter C. Reske
Peter Reske, senior editor of music/worship at Concordia Publishing House, holds degrees in English literature and historical musicology from Marquette University and The Pennsylvania State University. He was the editor of Lutheran Service Book and its attendant resources.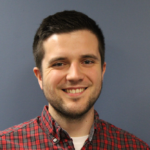 Jonah Schultz is an intern with Concordia Publishing House, studying Secondary Education English Language Arts at Concordia University Chicago. His favorite author is either Kurt Vonnegut or David Foster Wallace, and he maintains a slight obsession with fountain pens.