In Holding Up the Prophet's Hand, Dr. Bruce Hartung shared the importance of supporting professional church workers. Now in Building Up the Body of Christ, he turns his attention to providing church leaders with a guidebook for creating healthy environments for their congregations. In this Q&A, Dr. Hartung shares leadership strategies, struggles, and advice for readers of Building Up the Body of Christ.
Why did you want to write Building Up the Body of Christ?
A crucial dynamic for a healthy and effective congregation is the mutual interaction and support of the congregation and its pastor and other church workers. The congregation as a whole supports and strengthens its pastor, and the pastor supports and strengthens the life of the congregation and each individual in it. These reciprocal supporting relationships are the focus (singular) of this book, Building Up the Body of Christ, and my earlier book, Holding Up the Prophet's Hand. In Holding Up the Prophet's Hand, I focused on how church congregations, schools, and other church-related organizations can support their pastors, church workers and lay leaders. In Building Up the Body of Christ, I wanted to develop the other side of this proverbial coin: how pastors, church workers and lay leaders can help develop and strengthen congregational life. The two books actually go together well.
How would you recommend using this book as a pastor, church worker or lay leader?
I would like to see pastors, church workers and lay leaders take the book up first as an individual and read it just to get familiar with the trajectory of it and see the whole picture. Generally, the chapters of the book are not just individual topics that are taken up; rather, they build on one another and develop a kind of momentum that paints a broad picture of the nature of being a pastor, church worker or lay leader, not just the techniques (of which there are many) of leadership.
I would hope, though, that pastors, church workers and lay leaders would gather together to discuss the book in depth. We have so much more opportunity to deepen our skills and mature as followers of Jesus when we walk together. If elders or church councils or pastoral groups or school faculty came together to study this, I would find that really exciting. That would make my writing the book worthwhile.
This book examines the challenges in ministry through many lenses. Which strategy do you find most helpful in your ministry?
I have found—and you are asking a personal question of a strategy that I have found most helpful—that the most important component of leadership is the person of the leader and how that person becomes more and more an imitator of the person of Christ. So as a strategy, this means I need to continue to put myself in positions where I am learning and growing as a disciple of Jesus. This means I need people around me who will offer me feedback about my work as well as people who will support me as I am transparent about my own life and discipleship. I need to be asking how I am growing emotionally, spiritually, intellectually, empathically, and the like and put into my life places and people to help me do that. Regular Word and Sacrament participation as a congregation is, of course, key.
What struggles do you find most commonly facing leaders today? How can they address these issues?
I hope the two books are clear about this. Burnout, stress, secondary traumatic stress, and spiritual warfare are all major struggles. These all connect to the person of the pastor and church worker though. Church leaders, in order to strengthen the life of their congregations, need to be people who genuinely interact with the people they serve—in empathic, relational, and supporting ways. Relationships are key, and pastors and other church workers should be growing in their relationship capacities. They grow in these capacities through openness to feedback from others and openness about themselves to people with whom it is safe to be transparent. They grow by being a continual learner in all aspects of their lives—interpersonal, emotional, physical, spiritual, intellectual—and by being closely connected to Word and Sacrament as they always are in remembrance of their Baptism.
What advice do you have for new pastors and other church workers?
Besides reading Building Up the Body of Christ, I presume? Study the book together with other pastors and church workers and identify areas for personal and leadership growth. Find mentors who have walked before you and can coach you. Pay attention to your spiritual life and the implications of spiritual warfare for you, and surround yourself with people who can help with your spiritual life. Help your congregation, school, or other church-related organization's leadership develop Worker Support Teams (see Holding Up the Prophet's Hand) or something like them. Worship regularly and receive the Sacrament of the Altar often. Pay attention to all areas of your health and well-being, including physical, intellectual, social, emotional, financial, and spiritual areas.
What advice do you have for experienced pastors and church workers?
Everything in the previous response, except multiply them. Patterns build up, wear and tear happens, longer-term struggles set in. The idea is to develop supportive relationships that attend to the natural and predictable struggles of life as a pastor. Part of the satanic strategy is to isolate church workers, making them think they are alone in leadership or in the struggles of leadership. Joy is robbed under those circumstances. Our connections with one another bring support, comfort, strength, and maturity.
How much can people actually improve their leadership? Isn't leadership mainly a fixed level of ability?
Leadership is improved not necessarily so much by developing a new leadership technique or techniques, although these are always good to learn. We all can improve our leadership by developing our own personhood. Thus—to answer the question directly—no, leadership is not mainly a fixed level of ability. All of us can learn and grow and become better leaders in our communities. And, most certainly, all of us can learn and grow so that we make healthy contributions to the life of our community, in this specific case, to the life of the Church as the Body of Christ.
What are your hopes for Christian leaders reading your book?
I hope and pray that the Holy Spirit will bless every one of our members of the Body of Christ and, especially, everyone who takes up the called and ordained ministry as a pastor, or a called position as a church worker, or leads in less formal ways. St. Paul is very clear about the nature of the congregation and the mutual support, edification, and growth that occurs within the congregation. I hope and pray that the book in some small way contributes positively to the strengthening of our congregations so that they remain faithfully gathered around the voice of the Good Shepherd, our Lord Jesus Christ.
What advice do you have for seminary and pre-seminary students who are preparing for ministry?
My basic advice is this: use your time in preparation for the ordained ministry to grow more than your intellect. As the whole Body of Christ develops into a fully-functioning, Holy Spirit–led congregation using the diverse kinds and types of people, each person grows more fully in the Body of Christ in mind, body, and spirit. Along that line, I hope all seminary, pre-seminary, education, DCE, and DCO students (and others who consider church leadership) will read the book as well, because it will help them focus on specific areas of personal growth and development, as well as arenas for skill development.
Any plans for future work?
We will see. My interests include, among other things, further work in the area of spiritual warfare and spiritual direction, but there is also so much of what we are learning about the brain that will help us more deeply understand the human person. I am not naturally a long-distance book writer, and I am a professor emeritus (which means I am retired) so, indeed, we will see.
Thanks for the opportunity to have this conversation. May the Holy Spirit richly bless the work of Concordia Publishing House and its work in building up the Body of Christ.
---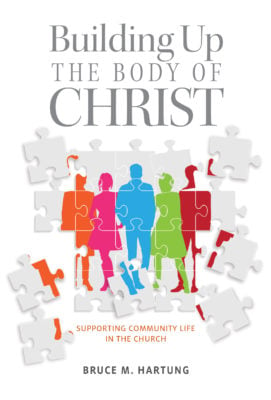 Building Up the Body of Christ: Supporting Community Life in the Church gives church leaders a guidebook for developing and nurturing church environments that are psychologically and spiritually healthy.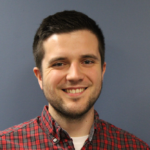 Jonah Schultz is an intern with Concordia Publishing House, studying Secondary Education English Language Arts at Concordia University Chicago. His favorite author is either Kurt Vonnegut or David Foster Wallace, and he maintains a slight obsession with fountain pens.