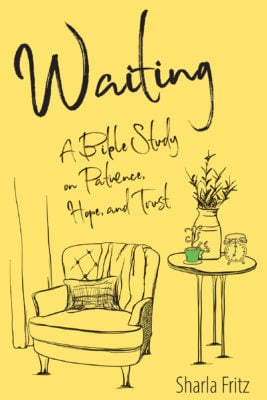 How well do you wait? Not, how well do you wait for your Netflix show to load, for your coffee to brew, or for your latest online order to arrive at your doorstep—but how well do you wait when God has called you to wait for something big? The kind of big that seems to put your life in a holding pattern. The kind of big that can make you feel like a prisoner in one of life's waiting rooms.
But what if . . . what if the waiting rooms of life are actually God's best classrooms?
Waiting is a Bible study by Sharla Fritz that offers women the encouragement they need to endure the disappointment of delay with patience, hope, and trust. This study examines the lives of eight faithful women in Scripture who were asked to wait. As you study these women and read their stories, you will discover how to handle your own seasons of waiting and be reminded of what God calls you to do as you wait on Him.
So, as you wait—whatever you might be waiting for—gather a few friends, pick up your Bible, and enjoy this eight-session study that will remind you of God's faithfulness and the promises in His Word, which will ultimately renew your spirit and help you become a child of God who waits well—a woman who waits with patience, hope, and trust.
Waiting: A Bible Study on Patience, Hope, and Trust will be available June 21, 2017. Add it to your Goodreads shelf.

Barbara Shippy was an associate editor at Concordia Publishing House. She attended the University of Missouri—Columbia, where she studied journalism and French. Barbara and her husband enjoy going to baseball games, traveling, and playing on the worship team at church.