A new Lutheranism 101 title is here—and this one is all about Jesus. Why? Because Christianity has always been all about Jesus, the bedrock of the Christian faith. In fact, Jesus is the entire reason the Christian Church exists to this very day and hour. And the more we know about Jesus and the more we understand the enormity of who He is and what He has done, the more we will want to talk about Jesus with others. Lutheranism 101: All About Jesus digs into the basics of Lutheran theology and examines what God's own Word says about the person and work of Jesus Christ. It goes into detail about His incarnation, His life, His miracles, His suffering, His death and resurrection, and what all these things mean for all people. This book also explores what Jesus says about Himself and makes connections between what Lutherans believe about Jesus and Lutheran teaching and practice.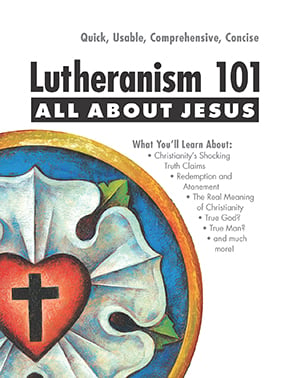 The important question every person must answer is the question Jesus asked His first followers: "Who do you say that I am?" (Matthew 16:15). No matter if you know very little about Jesus or have spent a lifetime following Him, there is always more to know. All About Jesus will not only help you answer Jesus' question of "Who do you say that I am?" but it will also remind you that knowledge is not the goal. It's an ever-growing relationship with Jesus by His grace through faith that is the ultimate goal. You can never have enough Jesus, for Jesus always has more for you.
Lutheranism 101: All About Jesus will be available March 28, 2017.

Barbara Shippy was an associate editor at Concordia Publishing House. She attended the University of Missouri—Columbia, where she studied journalism and French. Barbara and her husband enjoy going to baseball games, traveling, and playing on the worship team at church.