Forthcoming in our Theological Commonplaces series is a volume containing Gerhard's 1610 commonplaces—On Sacred Scripture and On Interpreting Sacred Scripture—and one lengthy appendix, Gerhard's Method of Theological Study. This latest work is translated by Joshua J. Hayes and edited by Benjamin T. G. Mayes.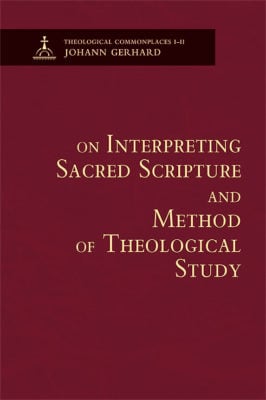 In the commonplaces, Gerhard emphasizes the authority of Scripture as the Word of God; the rule of faith as essential for right interpretation; proper use of allegory, dogmatic (doctrinal) exegesis, and human reason in interpretation; reconciliation of apparent disagreements; and the three requirements for interpretation: prayer, meditation, and testing.
It's these three requirements (prayer, meditation, testing) that form the outline for Gerhard's Method of Theological Study (1620), which is included as an appendix. As a professor, Gerhard led his students through a plan for a five-year course of study focused primarily on the study of Holy Scripture, though not neglecting other areas of theology. The Method gives readers not just a list of what to study but also practical guidelines on how to study—guidelines that will benefit students and theologians even today:
fluency in biblical languages and a strong foundation in the liberal arts
intensive study of Scripture
proper use of philosophy and academic disputation
instruction in preaching
immersion in the writings of Luther, church fathers, and contemporary theologians
personal experience of the truth of theology and testing by the devil
"The aim of all Scripture is Christ, and finding Him in the Scriptures should be our chief concern." —Johann Gerhard
On Interpreting Sacred Scripture and Method of Theological Study will be available July 31, 2017.
---
About the Theological Commonplaces Series
Considered the most significant theological work of Lutheran orthodoxy after the Reformation, this series remains a classic of Lutheran theology still today. With skill and precision, Johann Gerhard sets forth the Christian faith from Scripture in dialogue with the Church Fathers, medieval theology, Luther, and a multitude of contemporary theologians.
Each hardback volume features:
The English translation of Gerhard's Loci Theologici (originally published 1610–25).
Glossary of key theological, rhetorical, and philosophical terms.
Name and Scripture indexes.
Carefully researched list of works cited, which presents guidance for deciphering the numerous abbreviations of the other titles from which Gerhard quotes.

Barbara Shippy was an associate editor at Concordia Publishing House. She attended the University of Missouri—Columbia, where she studied journalism and French. Barbara and her husband enjoy going to baseball games, traveling, and playing on the worship team at church.