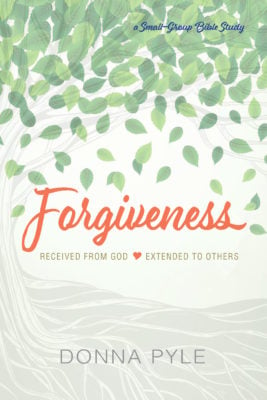 At some point in our lives, we all stand at a crossroads: to forgive or not to forgive. And if we're being honest, we probably find ourselves standing at such a crossroads quite often. Or, perhaps you've already chosen your path and have been traveling the lonely road of unforgiveness and deep-rooted bitterness for years. No matter where you find yourself standing—or walking, this Bible study is for you.
Written by Donna Pyle, Forgiveness: Received from God, Extended to Others is an eight-week Bible study that digs in to Scripture to help you understand the tricky business of forgiveness, grow in your faith, and walk the freeing path of forgiveness through Jesus Christ, our Lord.
The good news is that if forgiveness is truly the desire of the heart, any person, through the power of the Holy Spirit, with even the tiniest measure of faith can command those roots of bitterness to shrivel up. —Donna Pyle, From the Introduction
We hope you will join Donna Pyle and a group of fellow believers on a journey that will open your heart and mind to the life-altering and rich teachings that God's Word offers about forgiveness, the harm of harboring unforgiveness, and how to forgive others.
This new Bible study will be available May 9, 2017.

Barbara Shippy was an associate editor at Concordia Publishing House. She attended the University of Missouri—Columbia, where she studied journalism and French. Barbara and her husband enjoy going to baseball games, traveling, and playing on the worship team at church.