Today's devotion focuses on the Old Testament Reading from Isaiah 40, and comes from God's Love at Christmas: Resources for Advent–Christmas Preaching and Worship.
Scripture Readings
Isaiah 40:1–11
Psalm 85
2 Peter 3:8–14
Mark 1:1–8
Read the propers for today on lutherancalendar.org.
Introduction
During the Advent season, we remember Jesus' first coming as a humble baby and look ahead toward His second coming in glory. Just as Jesus fulfilled all the prophecies that spoke of Him in the Old Testament, so also He will fulfill His promise to return in glory and gather us to be with Him forever.
Devotional Reading
1. In Isaiah 40:1–2, God commands that His people be comforted. The repeating of the word "comfort" indicates both the depth of the need for comfort and the great desire of the Lord to deliver comfort. What comfort is offered in verse 2?
The comfort offered in verse 2 is that her warfare with God is ended, that is, her sins are forgiven, and Christ has a double gift for all her sins. In other words, God makes a swap with her, He takes her sins and punishment and in return gives her Christ's righteousness.
2. In verse 1 God calls for this comfort for "My people, says your God." What deep and abiding relationship is shown by these words?
The deep and abiding relationship is that through the saving work of Christ, particularly His death and resurrection, the Father has become our God, and we have become His children, and Jesus, His Son, has become our brother, and we are His brothers. We were slaves, but we have been freed to be part of the family through Christ.
3. In verses 3–5 there is a voice calling for repentance and promising God's coming revelation. Who is the fulfillment of this "voice" according to Matthew 3:1–3?
John the Baptist. And John's voice still resounds wherever the call to repent and believe in Christ Jesus is proclaimed.
4. When "the glory of the Lord" was revealed in Christ Jesus' first coming, it was a revelation of God's peace to save sinners (Luke 2:10–11). When Jesus returns in His glory, what will He do then? (See Matthew 25:31–46.)
When Jesus returns in His glory, He will gather the believers and bless them with eternal life, but He will also use His glory to judge the unbelieving.
5. In Isaiah 40:9–11, the Lord calls Jerusalem to proclaim the Lord's advent and work as our Good Shepherd. "His reward is with Him, and His recompense before Him" (v. 10). This promise goes hand in hand with the call to proclaim the good news of Jesus' coming. The Lord accomplishes what He is sent to do. He's not a fruitless worker. How does that give comfort to our congregation?
Because our Lord Jesus accomplished His work, and His Word delivers His saving work, our labor in the Lord is not in vain. It accomplishes what the Lord desires. Don't be surprised that from a worldly point of view it all seems in vain. Trust the enduring Word of God to tell us the truth about things.
Devotional reading is adapted from God's Love at Christmas: Resources for Advent–Christmas Preaching and Worship, Midweek 3 Bible Study Leader Guide © 2010 Concordia Publishing House. All rights reserved.
Hymn
Hymn is "On Jordan's Bank the Baptist's Cry," hymn 344 from Lutheran Service Book. Video © 2017 Concordia Publishing House. All rights reserved.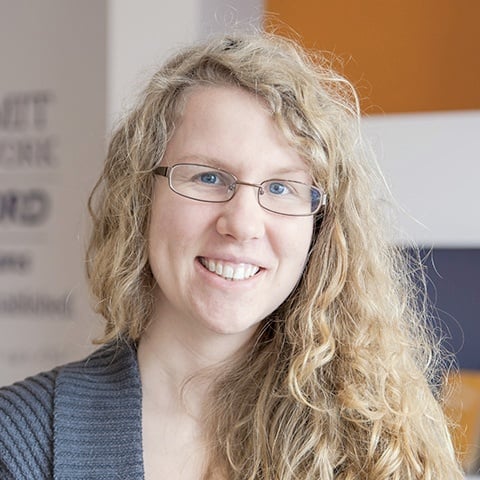 Deaconess Anna Johnson is a marketing manager at Concordia Publishing House. After graduating from the deaconess program at Concordia University Chicago, she continued her studies at the University of Colorado—Denver in education and human development. She has worked as a church youth director and served a variety of other nonprofit organizations, such as the Lutheran Mission Society of Maryland. Anna loves playing video games and drinking a hot cup of tea almost as much as she loves her cat and her husband.